Captains Logbook, Written by "Jokey Joke-maker" Cheung
The position of the drummer is often considered as the least important and the person who simply hits the drum. Here at the Windy Pandas, we consider it to be one of the most important positions on the boat. A drummer often can see the entire boat, a position only available to the drummer or the helm. They are in a unique position where they are able to take control of the team. Windy Pandas often have their drummer in assisting the team maintain their timing and technique throughout a race and this could mean the difference between winning and losing.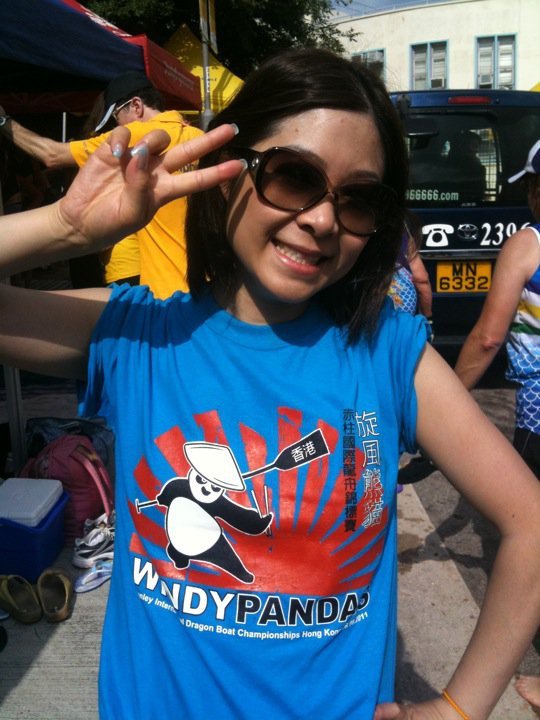 Lily "The Drummer" Chan
Generation Four
Drummer
2011 Stanley Drummer
When we travelled to the Far East to race at the Stanley Championships 2011, we were struggling with the girls. Lily was recommended by my friend Carmen and so I trust her judgement and she became Windy Pandas first international drummer. I first met Lily on the streets of Causeway Bay as we met up to the Pandas first training session in Stanley. I think we may have either scared her or she liked our passion for the sport.
We were very specific with what she can and cannot say, however, she quickly picked the calls up and was in her element during the Championships. Just before we entered our Silver Plate Final, she was nowhere to be seen, I called her a few times and left voice mail, little did I know she was having the time of her life on the Bloomberg boat. However, as we were about to set off to line up, she bursts out of the crowd and waving her panda hat like a maniac. It felt like something you would see only in a film. She screamed her head off in that race and did her all to ensure we raced well. Little did I know, she actually lost her voice for a few days for her effects.
Another drummer was born. Well done Lily. Here at the Windy Pandas, we salute you.