G8/WP2 Perspective
As the panda population grew significantly after mating season, we entered two teams for this event (Windy Pandas 1 and 2). WP1 consisted of the legendary, experienced & elder pandas, and WP2, as you've rightly guessed, was home to the best looking ones. Inevitably, I was part of team 2 and I felt very privileged to have been given the opportunity to be a captain, especially in my first race. But as you can imagine, I had no idea what this involved! Fortunately, we had some wildcards & jokers in the deck – as well as mostly G8s, the team also had a few great pandas from previous generations, such as grandfather Alam (G1), who came out of his long Captaincy retirement to lead team 2.
Having recently graduated from Windy Panda kindergarten about a week ago when we also blessed with our panda hats and tees, us G8s were really looking forward to our first ever race… that's if the G8 curse did not cause a hat-trick of cancellations and hit Wraysbury BDA too!
Thankfully, race day arrived and there weren't any last minute cancellation e-mails/messages from the panda elders & captains. Game on!
After picking up a few hitch hiking pandas along the way, we all somewhat arrived on time around 8.30am. As it was cold and raining (and it pretty much rained the whole day!), we worked fast as a team to put our gazebo up near the river and adjacent to other teams' camps.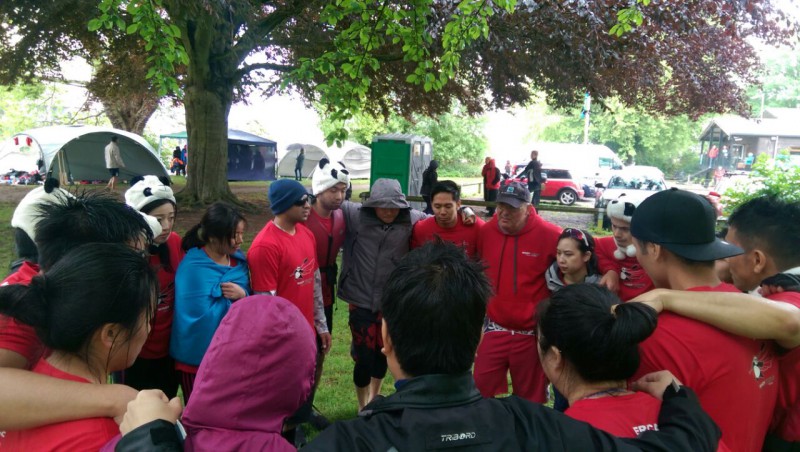 Group Team Talk
We found out that both WP1 and WP2's first race times were consecutive, so we quickly warmed up together. This is probably the most pandas I've seen together… around 40!
Panda family team talk – this was a much needed group huddle to keep warm, I thought! Captains Vo, Pang, Quy, Chairman Jez, Coach Paul took turns to speak and do some ritual dances to the Panda gods, setting the right level of expectations and motivating everyone. I remember Paul reminding us that we needed to be 100% focused when we were on the boat and to be mentally prepared. At this point, Adrenaline was starting to kick in and we were all excited for our first race of the season. Before we split to have our individual group team talks, we had our usual call or war cry to unsettle the other teams… "Who are we?! Windy… Pandas!!"
In the WP2 team talk, Alam told us how BDA events aren't like the charity events.
Things are a bit more serious (there were confused looks on our faces as this word wasn't in our dictionary) here and the times between races are shorter too, so we needed to be on the ball. The structure of the first race was also changed to time trials, so we weren't directly racing with another boat. As the underdogs here, we should simply focus on our own race. A few more words of encouragement from Ali and then it was my turn to say something to the team… *deep breath*… I kept it short and shared my feelings- we're a new team and have many new pandas that only started paddling a few weeks ago, so we should see it as an opportunity to put what we've learnt from training into a real race. We should aim to give it our all every race, have fun and have no regrets when we come off the boat. "Who are we?! Windy… Pandas…2!!" (I'm sure I saw the other teams shaking by now… nothing to do with the cold of course)
Time to check our final seating positions and then grab some NEW wooden paddles. Some of us were lucky enough to anyway! I was stuck with a plastic paddle! The sacrifices I make eh?! But we were all prepped for our first race.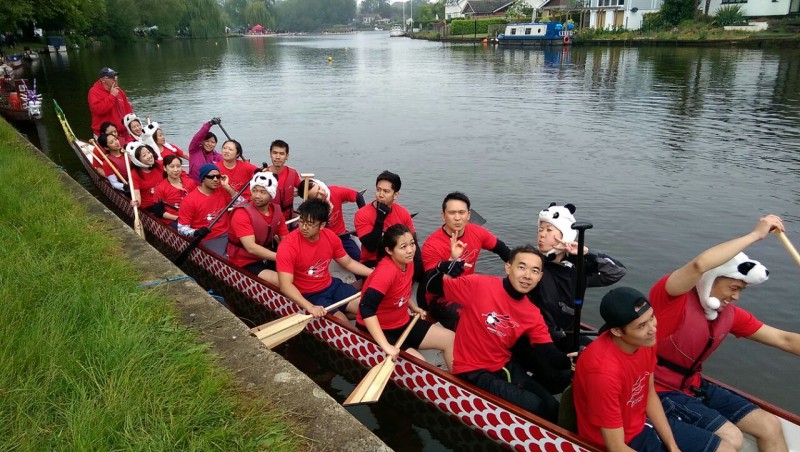 Race 1 – 200m seeding time trials
We only had 18 paddlers for our first race as some pandas naturally overslept. We got into our boat, did some short paddling drills to warm up and then moved slowly towards the starting line. By now, I remember I had to keep moving to stay warm as it was still cold and raining.
We also had a drummer at the front of the boat, which was pretty cool since we don't usually have one in training. It was exciting watching the teams in front start their races, but also nervous at the same time as it was like a slow count down until it was our turn. Before we even knew it, we could hear the officials calling us to move closer to the starting line, "2 strokes forward, please, Pandas… hold it there." A slight pause. Paddles already buried deep in the water, anticipating… "Attention." *Deep breath* We had practiced this many times in training, yet somehow knowing the race was real made all the difference in the world. "GO!" And we were off! It was all a bit of a blur until we finished – all I remember thinking was, "damn, this plastic paddle feels heavier than I recall"… in fact, we probably continued to paddle for another 20m because we didn't know where the finish line was!
Result: 01:04:75
After coming off the boat, it felt good to have finished our first race. Time to cool down and reflect on it – being near the front and focusing on the race itself meant that we weren't best position to analyse the race. Although I did feel that we lacked the final oomph near the end of the race and pointed this out to the team, but also reminded all the G8s that it was a great first race experience. Alam & Ali showed a lot of encouragement to the team and that it was good to get our first race nerves out of the way. We've also set ourselves a benchmark to improve upon and aim for our goal of hitting sub 1 minute, which would be a great achievement for a brand new team with many baby pandas! Our helm's invaluable feedback was that our timing was quite a bit off, so we knew that we needed to work on this as a team for the next race. And now that we knew where the finishing line was… we could actually time our final power strokes properly towards it!
After a short wait, we were warming up and ready for our next race…

Race 2 – 200m heats
We had a full boat of 20 paddlers this time and as there was a big gap before WP1 were due to race, our inspirational coach, Paul, was able to helm for us. This was a great confidence boost for the team.
After loading our own Panda boat, we did a couple of light drills and race starts to warm up. I'm not sure if it was the long drive there or the early start, but I felt quite fatigue already. I remained optimistic and just kept reminding myself that I always pull through.
We waited a short while and then it was our turn. We lined up side-by-side on the left of one of the fastest teams from the first race and with our boat closest to the embankment. By now, our millions of fans from around the world had arrived and were supporting us from the sidelines. But as usual, Paul kept us focused and composed on the boat. We buried our blades deep in the murky water. "Attention. GO!" It was one of those fairly quick starts that Paul had warned us about.
Result: 01:00:97
After the race, we signed a few autographs and went to cool down. Our team talk was really positive and there was a great feeling all round – we improved on our time and were just shy of our sub 1 minute target. Still we knew we were going in the right direction and looked forward to our next race. We broke away and already many pandas were rewarding themselves with food… lots of food and tempting snacks!
There was a slight delay until our next race so some took the chance to nap in our gazebo, and others went to support WP1 (loyal pandas) and watch the other races.

Race 3 – 200m heats
Again, Paul was helming for us for this race. We waited on the water for quite a while until we were called to the starting line, so we completed some warm up paddling and race starts. With the team a few pounds heavier, and weather conditions starting to worsen, we decided to take shelter under a tall, overhanging tree.
It was becoming all too familiar. When it was finally our turn to race, we lined up next to another team… some big deep breaths to calm ourselves down and we were ready. "Attention. GO!"
Result: 01:01:63
Exhausted and disappointed after what turned out to be WP2's last race of the day, we huddled together for our last team talk. With hindsight, we realised that we needed a faster rate after our up calls.
Alam broke the news that our last race was cancelled due to the delays and then reflected on our day's work. "We set ourselves a target at the beginning of the day and we were getting better and better as the day went by, I truly believe we could have gone sub 1 min for that final race. But like I said, winning and losing in dragon boating is marginal, I've lost a race by one stroke, but I've also won a race by one stroke." Wise words! It goes to show how important each team member's contribution really is and if we adopt the mentality that every race could be our last, we'd naturally perform at our highest standard and not hold anything back.
Another important note Alam made was that it was "important to race our own race" and not get distracted by the other teams. My closing team talk reminded everyone that this was just our first race of the season, and there were many more to come. We know there is a lot of scope for improvement, and with more training sessions, we could see good progress in our race times. I think this was an invaluable experience to everyone taking part and importantly, it was an enjoyable day out too.
It was a proud moment for WP when we found out WP1 came 6th overall out of 20 odd teams that competed. Great achievement guys!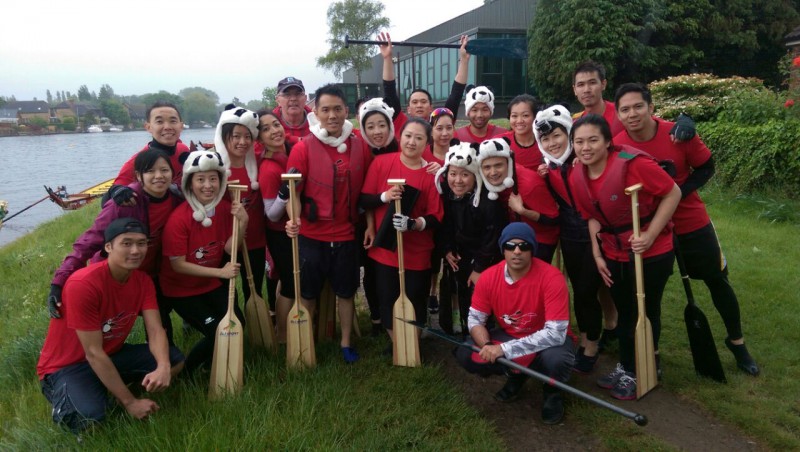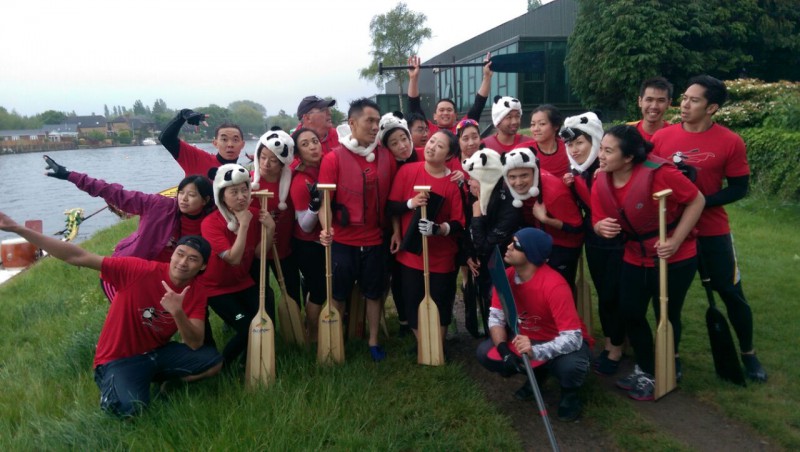 5000m Race
It was a long and tiring day already but the finale was a 5000m race. After some pandas from WP1 were happy to continue sleeping and sit out their 5000m race, a couple of crazy pandas from WP2 were happy to fill in. Shoutouts to my fellow G8s Grace "Medic" Chan and Joey "Chrysanthemum" Tran who joined me on the crayyyy list!
Although I initially thought that it was a bit too early for a long distance race like this, I really wanted to push myself to take up the challenge and overcome a psychological barrier. It's not something we regularly practiced for so it'd be a good foundation for future long distance races.
I remember being quite nervous before the race started and was so relieved when we were approaching the final stretch. This was a race in which we had to make one turning in the river halfway through… pretty tough especially when you're already feeling achy and tired! But it really hammers home the importance of getting the timing and technique right so that you use your energy efficiently as a team. The good thing is that because of the distance, there is time to fix timing issues without it having a significant impact on the race (unlike the short 200m ones).
Dinner
The day wouldn't be complete without a panda dinner! We dined at a Chinese restaurant which had an interesting choice of logo. Food was awesome though. It was good just to catch up with the rest of the team and have a good laugh before the day ended.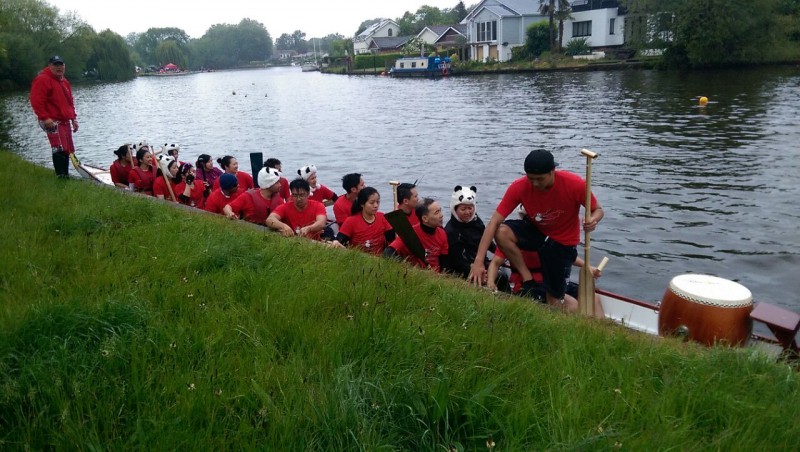 Closing remarks
Thanks to Jez, Paul, WP Captains for organising our attendance and everyone who participated to make it an enjoyable and memorable experience! Special thanks to Alam and Ali for sharing their experience with WP2.
It was a great privilege to have been given the opportunity to be a captain for WP2 – by working closely with Alam in the preparation stage and learning from him and the other captains, it was clear that there was much more to the job behind the scenes! Hopefully this experience will show through in future races. I couldn't have been happier to have competed with such amazing pandas new & old. Great job WP1 and WP2! Looking forward to training and competing in the next race at Chinatown Lions/London HK Dragonboat Festival. One final call to sign off… Who are we?! WINDYYYYYY…. PANDAS!!
Ricky "She Bangs" Chan