The interviews are back, today we interviewed our G11 Vincent "Potato" Lau. Here is what he had to say about his experience at Windy Pandas and a little bit more about him!
"Dragon boating has always been a sport in the back of my mind to try out. All of my friends started Pandas training from G5 onward and I wished I had joined in the fun back then. However 6 years later I gave in and I can safely say it was one of the best decisions of my life. The friendship I built over past year or two has been amazing, along with building up my fitness and challenging myself to grow. I hope to continue this for as long as I can!"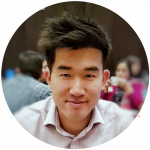 How did you find out about the Windy Pandas and who/what made you join the team?
I found out about Windy Pandas since G5 (2012) and joined last year as I wanted to change my lifestyle and be more active.
What are your goals with joining the Windy Pandas?
Challenge myself, build on team work and build on my fitness.
What are your likes and dislikes about dragon-boating?
I love being with friends and people who are approachable and have that positive energy to make weekends just that much better 🙂 One thing I dislike is we still train even when it's raining! But goes to show the dedication we all have
What is your fondest Windy Panda memory so far?
Our extremely talented drummers and their vocal abilities.
Any advice for those that are looking to take up dragon-boating?
Keep going and trying your best. Keep observing and ask for feedback, you'll improve soon enough. More importantly you'll build on friendships over time, so your friends will help you succeed no matter what.
Whats your nickname and how did you come about?
Potato! I'm just a very big potato fan.
Name three things you can not live without and why?
My phone, my PS4 and my PC! Just the necessities of a boys' life!
Your go to Karaoke song?
Any backstreet boys song 🙂
Who is childhood celebrity crush?
Buffy Summers
Describe your perfect date?
Tough one – but I guess 1st April as it's Spring, not too cold, not too hot and it's Aprils fools 🙂
What is your most embarrassing moment?
Cycling to school when I was 14, saw two gorgeous looking girls and tried to show off with a wheelie, and stacked right in front of them.
What's the best/worst practical joke anyone's ever played on you? And vice versa?
When Joey took a picture of me, Kit and Nick in Alicante and it took a whole 2 minutes for us to "adjust" to our pose, only to realise that Joey was taking a video of us all this time and we had followed his fake instructions for 2 mins straight – such noobs we were….