On Sunday 31st July 2011, the Windy Pandas went to the seaside resort of Worthing to take part in their second Dragon Boating charity event in the UK. Twenty Three teams were here all wanting to have fun and do well, just like us. Prior to this event, we had already raised £300 for their local charity, WADAR, via a poker fundraising night held at Stephanie "Judas" Ng's place. The team consisted of a mix of full-time members of the Panda team and last minute super subs and so it was a very mixed crew. As Captain, managing expectations is one of the hardest things to do. I wanted the team to do well, try our best and most importantly, have fun.
The weather was perfect, sunny and in the low 20C. The venue was small but intimate and the atmosphere is still as good as ever. Stalls selling food, items and raffles surrounded the lake along with colourful decoration and banners. The usual lively music was beamed out from the speakers as we hear the event unfold over the announcements. We were positioned right at the end of the line of tents and slowly set up camp around 9am. I think most of us was still half asleep when we got there and fortunately, setting the tent was without any hick-ups and soon the team had settled inside our temporary home. The scene was set.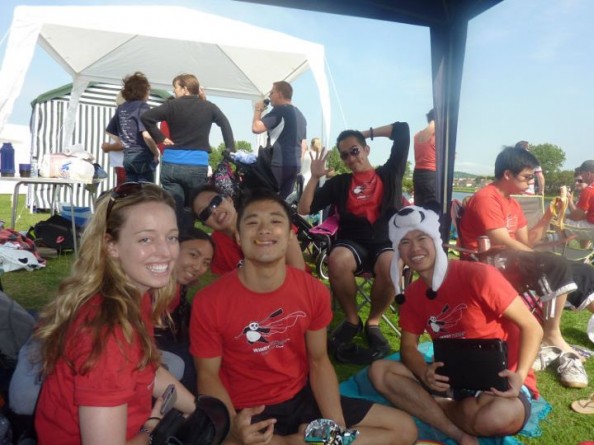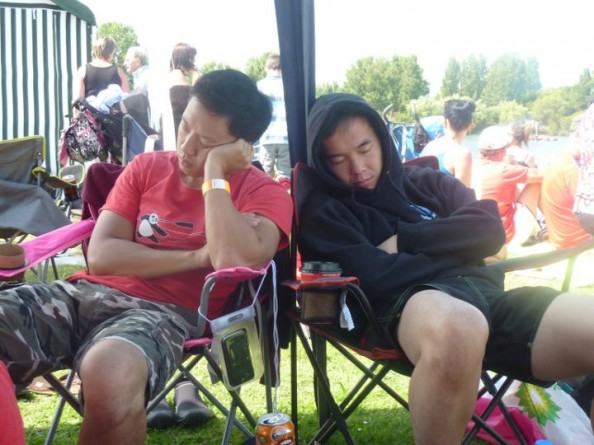 Vice Captain, Wai-Kuen "Wally" Hau and I decided to register the team and complete the formalities, some of the guys wanted a breakfast run to get some much needed food before the race begins. For the rest of us, we either relaxed and sunbathed on the chairs or went to look for shade within our panda tent. The mood was very relaxed and buoyant. Soon, the breakfast run people had come back with offerings of hot beverages and snacks. I could not resist.
Soon, the event had began. As we hear on the tannoy announced that the first race was about to begin, the majority of us dashed out into the embankment and watched in eager to see what the competition was like. The first race was fairly one sided as one team clearly took the lead and showed good composure and power. They won easily and I immediately thought they would be a team we might face at a later stage. As we watched a handful more races, we tried to keep relaxed and busy before our first race.
We took this opportunity to take a group photo of the team. I knew the team was still half asleep when no-one opted to pose for the pictures, I truly obliged. Looking pretty cool with Panda hat I thought. Anyways, we can talk about me another time.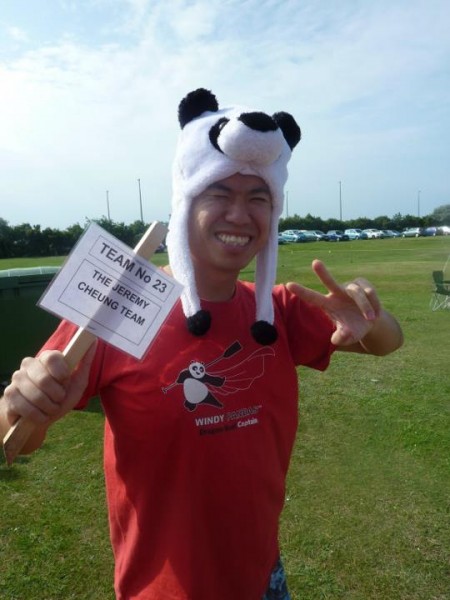 As our first race was about to begin, we warmed up and I explained to the team we should take the gas off our first race and used the first race as a warm up, win or lose. As it happens, we were racing with the team directly next to us. They were already giving us the banter already. Thats what I like about charity events, that friendliness and wanting to chat to other teams. As we lined up against them, I can see the course is tight, we will be paddling really close. Down and ready and as we started our race without a usual starts, I could hear the other team and we could not pull away. I could hear former Vice Captain now turned drummer, Alan "The Rack" Lam shouted at us from the front. "Come on guys!". I could feel everyone giving more effort in their strokes but we still could not pull away, in fact, they were gaining, inch by inch, stroke by stroke. We were side by side and as The Rack shouted "Finish!", we gave it one big push. Tough first race! The other team was over the moon and were clearly delighted, which was quite the opposite to the Panda camp. I checked the race times, we lost that race and now in a precarious position of second from bottom. Who said charity events were easy?
As we warmed down, we analysed the race. Everyone knew we took off the gas but we had lost that race and now have a race time, second from bottom. Everyone voiced their opinion and wanted to use our A game. And so that was our second race strategy. Full racing start and race heads on. Let's show them what the Pandas can do.
The team relaxed by resting, playing card games and kept out of the sun. Our second race of the day soon arrived and it was a team much more determined and focused. As we lined up for the race, we were just very quiet, clearly concentrated and wanted our first win of the day. Again, the other boat lined up really close to us. Down and ready guys. We had our plastic paddles buried in the water waiting in anticipation. Attention….Go! We used our full starts and after ten seconds, we shot off and was clearly ahead. The boat moved well and we were into our full stride. All we had to do was to maintain this and see if can get a good time. Our drummer for this race was Dr Fi "Angel" Fong and as she called for us to finish, I think we knew we had won. Well done Pandas.
As we left the boat and checked the times, we were around fifth position overall. We are in a good position. The top eight teams qualify for the semi-finals. We had an hour to go before our next race, so again, the mood in the camp was very much relaxed and to do wait our final race in our heats. Our last race was very similar to our second and again we had won with relative ease, however, we did not get a faster time. Fortunately, our second heat time meant we have qualified for the semi-finals. As we were the last to race in the heats, we had to wait around the pontoon to see who and when we are racing. I was called up by the tannoy to pick our boat. I had no idea who were racing but all I know is that we have nothing to lose. After self warm-up and team talk, we were ready to load the boat and line up for our semi-final race.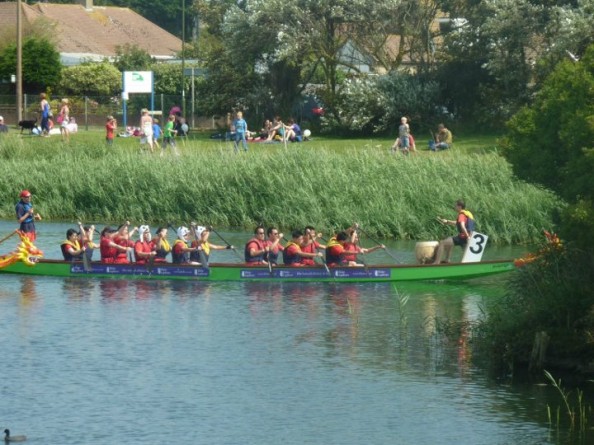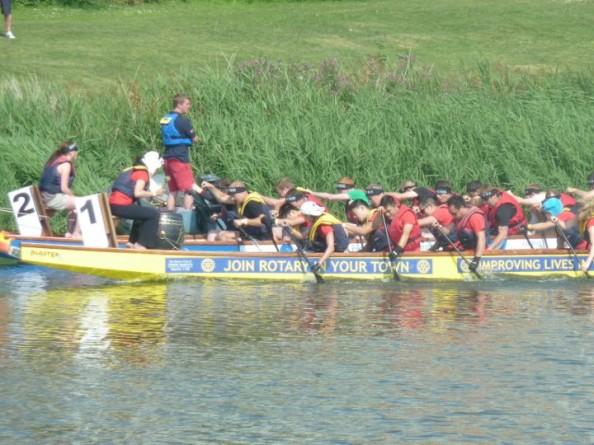 The other looked big and strong, so it would be good to see how we do. We lined up, the tannoy shouts "Attention!". Down and ready. Paddles buried and deep breathes in. Go!!! We were off. Our start was good and powerful. I can feel we were pulling away quickly and away from the other team. Into the transition now. Keep it strong Pandas! Here we go, as we got into our stride, I could hear the other team behind us. They were louder and louder. They are gaining. Our drummer Fi Fong's voice was lost amongst the shouting from the other team and from the grunts and efforts from ourselves. I can feel they were catching up. Soon, we were side by side. I was getting drenched, plenty of water being scooped up. My paddle hit another paddle. I slammed it down as hard as I could and try and carry on paddling. We were near the finish line. They were shouting go, go, go!  Our team was relatively quiet and calm in comparision. Keep it together guys. 50metres to go. We are still neck and neck and fortunately, we are not as close. That last twenty or so strokes felt an age. We had crossed the line. I looked across the line, I could not tell if we had won or not. Good race Pandas, great effort.
We dropped our paddles and life-jackets off and huddled tightly to see if we had qualified for the finals. I knew I couldn't have asked for more for the team, so either way, I was happy. The atmosphere was tense, the other team was next to us, I tried to avoid looking at them. I reassured everyone that whatever happens, we have tried our best and that's all that matters. Tension was unbearable. No one knew what was going to happen. After a few minutes, the other team cheered and screamed and our camp, well, quite the opposite. I knew it wasn't to be. We wished the team good luck and went back to camp. We had lost out by 0.1 of second. After watching the team we lost too win in the final, I voiced my delight in the way we paddled and fought for our place, and most importantly, we had tried our best and had fun! That is the Panda way.
We went to the beach to celebrate our efforts and treated ourselves to a banquet at the nearest Harvester. So we didn't get to the finals, no big deal. We had a great day of paddling and everyone had fun. Happy days.
I would to thank my Vice Captain Wally for all the help on the day, drummers Alam and Fi for doing a great job, Guy and Judas for their job pacing, Vo for doing the breakfast run and bringing the gazebo, Kong for providing the comical hats and tablet, to the newbie Pandas that made their debut and all the last minute super subs that made it to this event and gave it their all and everyone else for making Windy Pandas who we are today!
Ali  "I Love It" Chan
Patrick "Nova" Cheong – See
Jeremy  "Jokey-Jokemaker" Cheung
Cambria "Miss America" Minott-Gaines
Wai-Kuen "Wally" Hau
Alan "The Rack" Lam
Stephanie "Judas" Ng
Vo "Casper" Su
Guy "Wu" Tang
Jack "Mr T" Tho
Fai "De Laaa" Yip
Dr Fiona "Angel" Fong
Michelle "Ding Dong" Wong
"King" Kong
Marina "Tiger Babe" Mok