It is so much easier to write a race report having won it, but as I write this, I cannot help but think about the previous failed attempts of winning the Chinatown Lions Finals. Twice, we have qualified as the fastest qualifiers and both times, we felt that we would do really well in the final and have every chance of winning it. However, this was not the case and the Pandas ended with a fourth and fifth place finish. Even to this day, I can feel the emotions of bitter disappointment. This is not to knock finishing fourth or fifth place but given the circumstances of being fastest team both times, naturally, your expectations rises. It's like you are on a high and then at the final hurdle you are pulled straight back down. Of course, the Pandas were not assembled to become the best team, but what I do ask is for us to do our best and to have fun. We went through a phase of two years where we would finish in fourth position and always just missed out on a podium finish, which does play on your mind. Here's an insight into what happened on Sunday 1st July 2012.
Chinatown Lions Dragon Boat Festival
On a grey Sunday morning, I had assembled the best looking athletes all on one spot in at the London Regatta Centre. It was quite momentous and chaotic at times. There were around forty of us plus an army of supporters and fans. I was amazed I only got asked for a handful of autographs as I walked over to the event. Still got it. We registered and located our tent, which we shall call 'home' for the next seven hours. We were located towards the back and our the view was not the best, but that did not dampen the Panda's spirits. We were split into two teams, Windy Pandas and the Windy Panda Cubs. Everyone were enthusiastic, smiling and raring to go.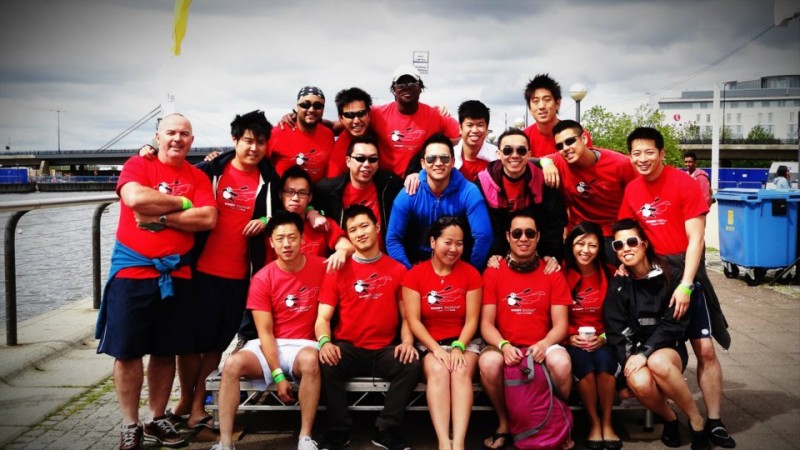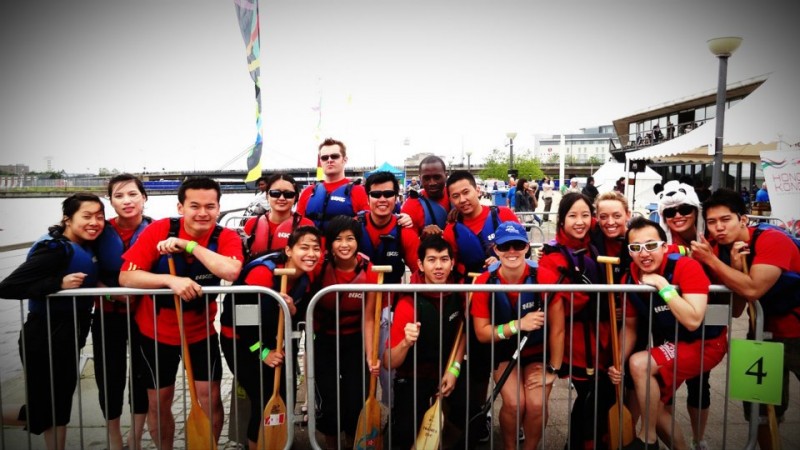 We found out that in our first race, the Senior Pandas had to race the Cubs team. This made the first race even more exciting and added more spice to the race. Even our warm ups were epic, forty of us trying to warm up together in a tight circle. It's never ceases to amaze me how many people are in the team. Our team talk was relatively short, I only wanted two things from the day, to do their best and to enjoy it. And so, our first race, was Windy Pandas vs Windy Panda Cubs vs X. I used the team talk to emphasis that Cubs should look to beat the Pandas and that Pandas should not lose to Cubs. I had hoped this fired the Pandas up as this was the first race of the competition and I wanted to show the other teams what we were capable of.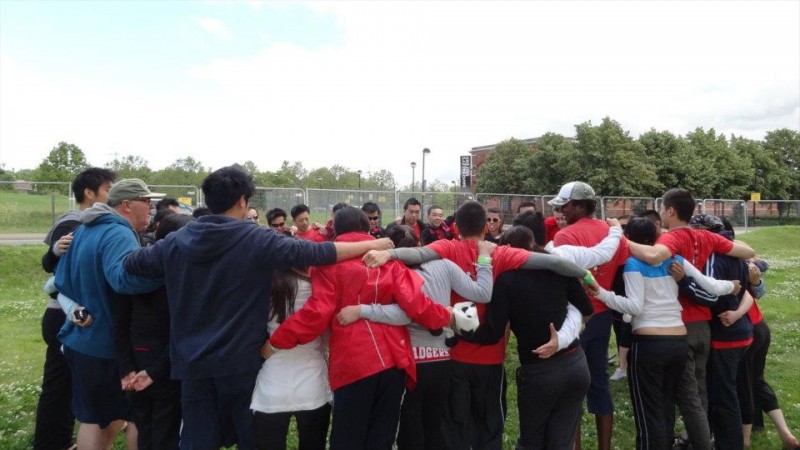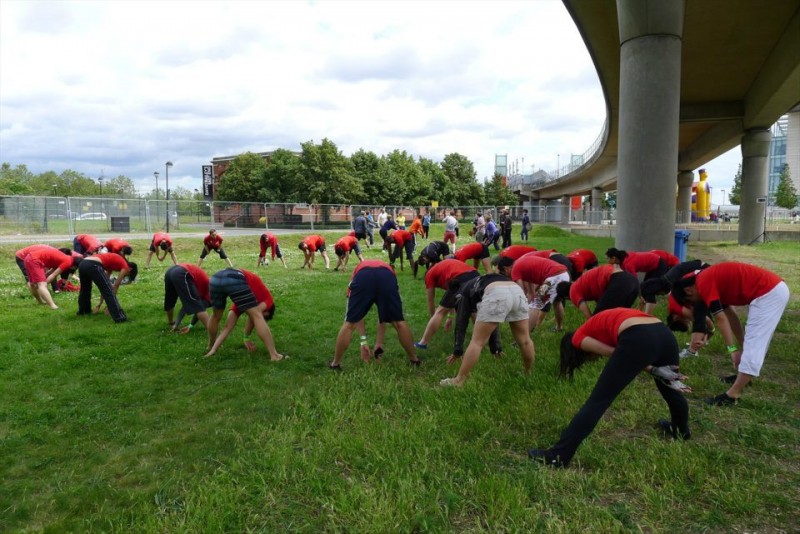 The First Race..
We then separated into two teams and I had assigned Debs and Meme to be Captain and Vice Captain of the Cubs and they gave their team talk. On the Senior WP Team, I had Ting and Vo as my Vice Captain and Second Vice Captain and myself as Captain. It was a moral boost to have our Coach Paul on our boat. He offers experience, leadership and know-how. As they called us on the tannoy, both teams headed over to the pontoon for our very first competitive race against each other. I was nervous. Butterflies. The lot. We loaded the boat to our line up and paddled towards the start line. I could sense the tension, see the crowd and I could feel how much both the teams wanted this win. Here we go. Attention. Deep Breathe. Go! I was sat at the back and I can feel the power of the strokes. We came out of the blocks flying. Onto our second set of start, timing was good. We had got into our rhythm after our start, we just need to maintain this. I can hear the grunts and shouts from the team. Three, Two, One and Drive, Attack, Drive, Attack. Maintain composure Pandas. I can hear the crowd cheering and screaming us on. We had 50 metres to go. The final push for the finish. We gave it everything in that period and when the helm shouts easy, I looked beside us and we had won. A good start Pandas.
Second Race
Me and Vice Captain Ting sat out on the second race to rotate people around. We did manage to look at the Pandas and Cubs race and it is always good to see with your own eyes how we do. Both teams looked good, Pandas Seniors got a slightly slower time and the Cubs got a quicker time. Both teams had things to work on and so onto the third race. At that moment, I believe Seniors were second fastest and the Cubs around sixth position. The top nine teams qualify for the Semi Finals, so we were looking good.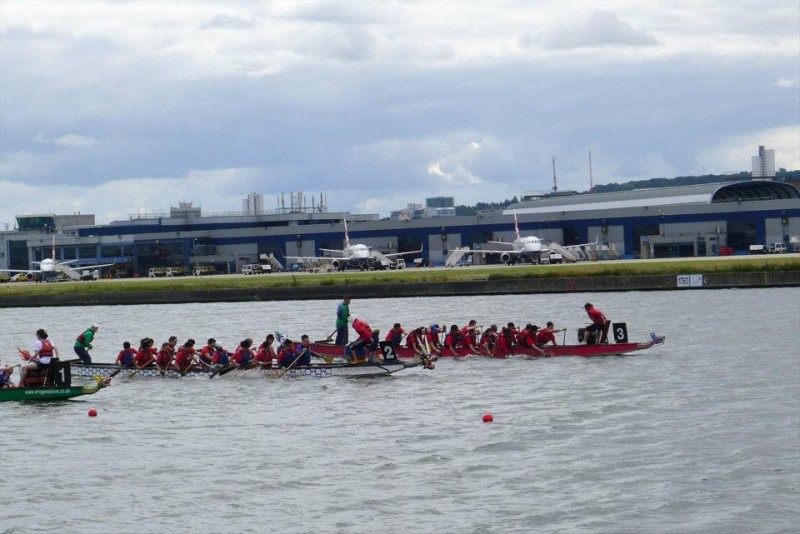 Third Race
We rotated once again but I wanted both teams to get faster and improve. So we were going to the final race, knowing the Seniors have qualified and Cubs have still everything to play for. Having said that, our final position would determine who we race, so it is in our best interest to qualify as the fastest possible so that we  avoid the faster teams in the Semi's. So onto our final heat. The Seniors were racing one race ahead of the Cubs, so I didn't even get the opportunity to watch them. We set off to the start line once more and the weather was grey, windy and slightly drizzly and the sun had gone in. The lining up of the boat took longer because of the conditions, so it was important we remained focused and ready for the starts. I called for a big start at the team talk and I hoped that message got across. As the boats lined up, I can hear the call of down and ready. Attention. Go! We were off, nice strong start, maintaining the boat surge and I felt this was our best start of the day. We continued the momentum and had won that race quite comfortably. The Semi Finals awaits. As we walked back to camp after that race, the others saw the Cubs had just finished theirs. We couldn't tell if they had won, let alone qualify. All we could do is regather the troops and wait for further announcements.
A few of us were eating, trying to keep warm, some were playing card games, just maintaining a relaxed atmosphere. I remember the tannoy announcing the semi finalists, you can hear a pin drop. Windy Pandas, yes! Windy Pandas Cubs! Double yes! Well done everyone. Both teams in the Semi's. Panda Seniors qualified second fastest and the Cubs as 5th fastest. An achievement in itself. The only negatives was that the Second, Fifth and Eight placed teams would race each other. Yes, we had to race each other again. The way it works is that the winner of the three Semi's and the three fastest losing teams will go through to the Final. Everything to play for.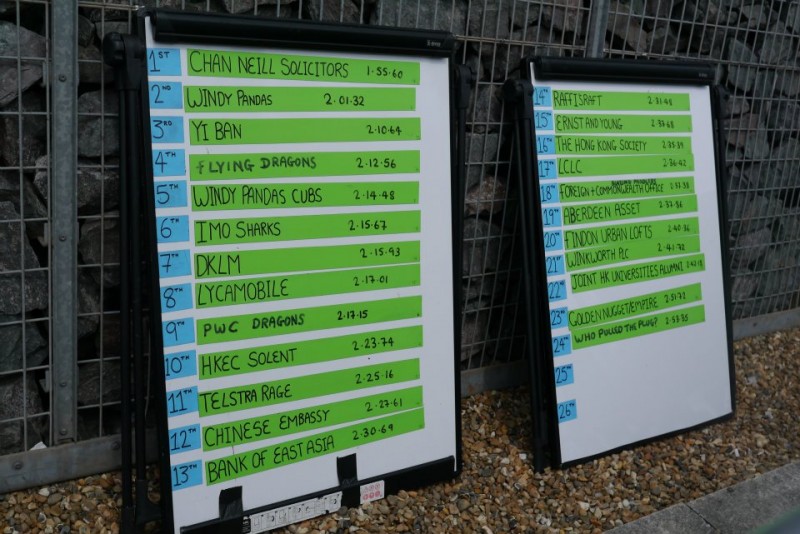 Semi Finals
The team talk was pretty straight forward at this point, we are in knock out stage. If we don't perform, we will go home. We were to race in the same three boat Semi Final race, however, if you are fast, you can qualify even if you finish third. It was important that both teams kept their composure and fight for that spot in the finals. We were ready and for me, the nerves were back. I could feel it in my stomach and sometimes its good to feel like this as it means that it means something to you. And so, both teams paddled to the start line and the helms were quite meticulous in ensuring we were lined up.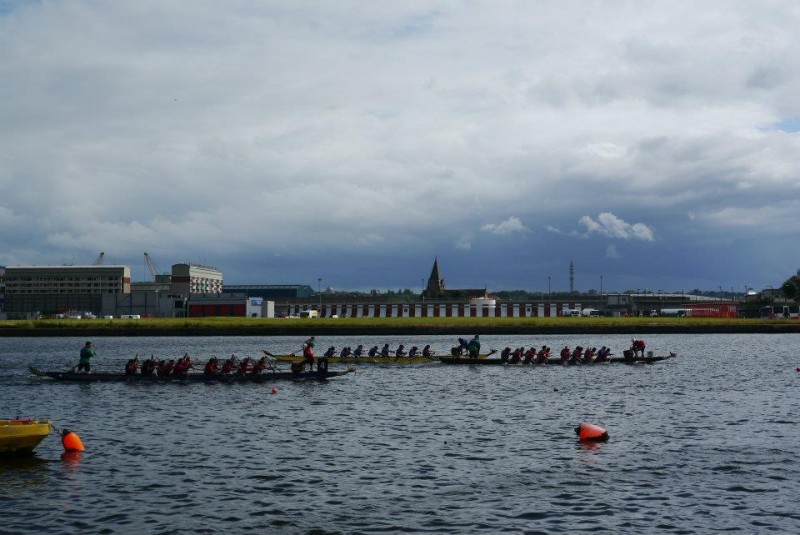 I'll be honest, the Semi Finals was a blur to me. We were down and ready and blitzed off at the start, although another boat was close to us. I recall hearing another team's screaming and shouting near us. Was this the Panda Cubs? Or the other team? It was just a case of ensuring we win and hope that it was the Cubs. And so after we crossed the finishing line, I looked up. We had won but the second placed team was not the Cubs. I can see their faces of disappointment. Nothing to be ashamed of and that was what I said afterwards. You never know. As long as you've done your best, that's all that matters. The Senior Pandas were in the finals and we had around twenty minutes rest before one last race.
The Final
So here we are, the Windy Pandas third final at the Lions event. Will it be our year? It certainly will be tough. For the first time, we did not qualify as the fastest qualifier, which means we need to up our game to even stand a chance. A six boat final and everything that's happened before counts for nothing. Winner takes all. Can we do it? I believed in my team, but ultimately, we needed to prove this on the water. We were in the middle of the six boats as we lined up for the final race. Due to the conditions, the boats took a while to load. It was vital we maintained our concentration and that we were ready. Down and ready. Attention. Deep breathe. Go! As we went through the gears, just like a car, we were gaining into our top speed. The noise was immense both from the boats and from the crowd. My heart was pumping fast. Our timing looked good despite all of this. Now, we need to power through and take the lead. The crew was powering through their strokes, I called a few more power strokes down the middle. I didn't notice whether we were leading or last, or I wanted to do was give it everything I've got. The noise from the other boats seemed to more subdued. Half way through. 100m to go. Let's go for it Pandas! I shouted for better drive downs and attacking the water. Come on, we need to show more aggression. I was running on pure adrenaline and gritting my teeth. I can see the finish line and I can also see another boat besides us. Come on Pandas, do not let this slip away. We just went for it in the last 50m and went as hard as we possibly can. I can hear the team next to us getting closer. I didn't want to stop paddling. And so when the helm shouted "Easy" for us to stop, I immediately looked up and saw another team next to us. Had we won? No idea. However, I cannot doubt the commitment and desire we paddled in that race, we gave it everything. I was shattered and out of breath.
The Second Final
As we paddled back, thinking we had finished, the organisers decided that we are to compete in an "Elite" race. We had to do all that again against two other teams. This was a surprise and I could see that we were getting quite tired. We tried to take it as easy as possible going back to the start line. Same again Pandas was pretty much all I said. As we were down and ready, the race was started. The start wasn't as smooth as before but we were still pretty quick. As we got into our stride, we really had to dig deep and get all the power we can muster together. I knew we had taken the lead as I can hear the other teams behind us. Come on guys, we have got this. Every strokes counted. As we had another finish call from the Helm, we paddled our hearts out to the line. I looked up once more to see where we were. We had clearly won and understandably ecstatic on our triumph.
As we paddled back to the pontoon, we were greeted with great cheers and applause from the crowd. That was a special moment.
The Announcement

So as I stood there, by the podium, awaiting for the call from the judges, understandably, my mind was already set for disappointment. I was telling myself we didn't do it, we didn't do it, just in case we did finish second. Those few minutes seemed an eternity and I haven't felt this nervous in a long, long time. So the feeling I had when they announced Windy Pandas as champions was both of jubilation and relief. We were screaming and shouting and I just recall celebrating with the whole gang and caused quite a stir. We had finally done it! All those painful memories were subdued and as I went to the podium to lift the trophy, it was quite a proud moment. All those hours, months and years of training, racing came to fruit. I was so happy and even more happy for the team. Those guys deserved it. It's been a huge learning curve being Captain of a Dragon Boat team and something I will cherish for the rest of my life.
Winners after our third attempt and yes, this victory tastes very sweet.
I have to say a few words about our Panda Cubs, whom did exceptionally well to get to the Semi-Finals, improved with every race and finished in a very respectable 7th Position. Your time will come!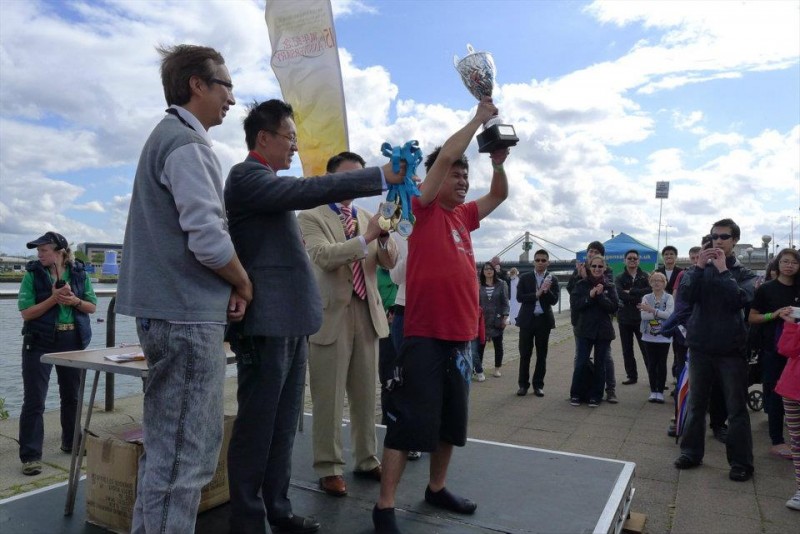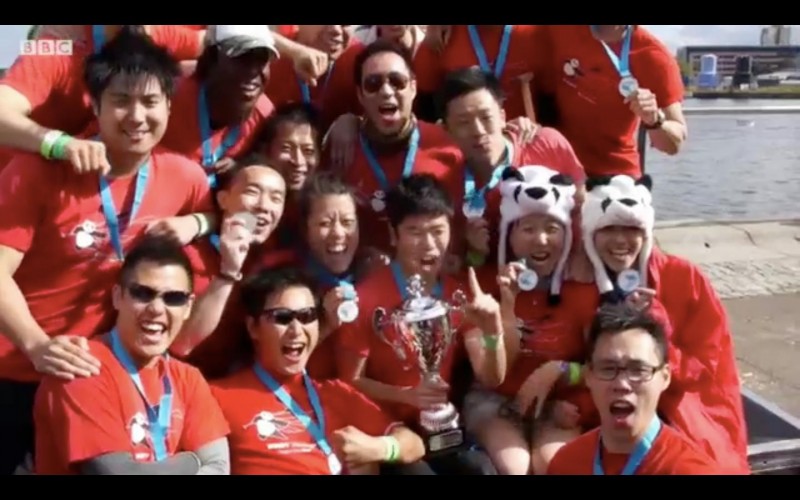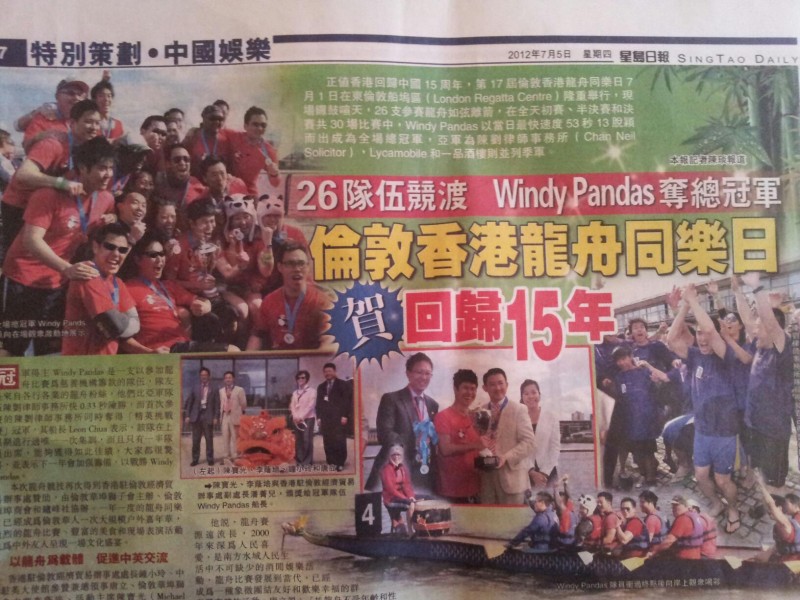 Our five minutes of fame on the BBC China News and in the Sing Tao newspaper.
My thanks to all those that came down to support and cheered us on, to all the fans that were there with us wherever you are in the world. This win was in honour of my Grandma whom sadly is not with us anymore and one of the reasons why I started this team in the first place. And of course, thanks to everyone that was part of the team. You are awesome.
Windy Pandas 1st and 7th position and still one of the best looking DB teams around!
Jokey-Jokemaker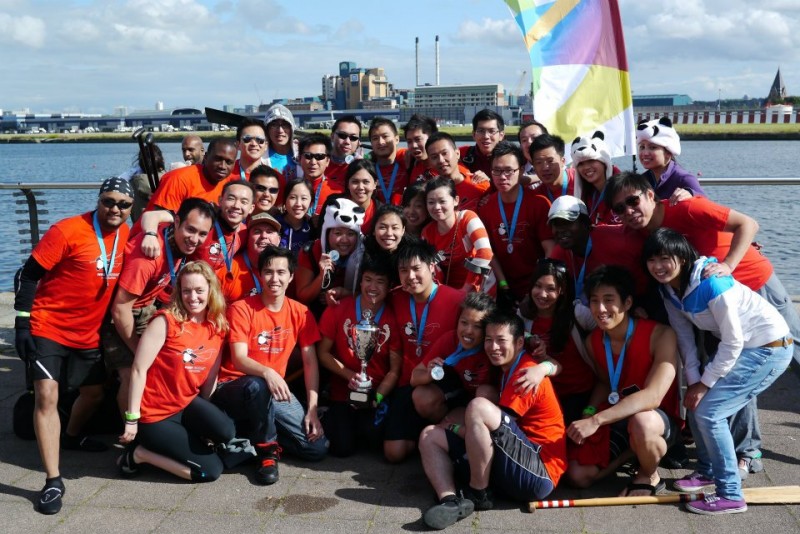 Windy Pandas Squad Chinatown Lions 2012
Ali Chan
Dave Chan
Simon Chang
Oscar Che
Jeremy Cheung
Patrick Cheong-See
Tse Yan Choi
Bing Chong (Drummer)
Stefan Collymore
Pip Genge
Fi Hoang (Drummer)
Alan Lam
Maxine Lam
Kee Law
Deborah Le
Hien Le
Wai Hung Lee
Alan Liaw
Cheng Ly
Meme Ly
Cambria Minott-Gaines
Karen Ngo
Satinder Rayet
Joseph Sotomi
Vo Su
Guy Tang
Mike Taylor
Caroline Teng
Jack Tho
Elaine Tse
Pol Tumalaytay
Tran Tuong
Long Voong
Will Wan
Phil Wong
Chin Pang Yau
Ting Yau
Fai Yip