130 teams, 3,500 paddlers, 95 races over the course of a weekend. In particular a standout UK team that encompasses the combination of a thriving, committed and stunning looking individuals to show North America their patriotic colours as well as their capability as a close knitted unified team.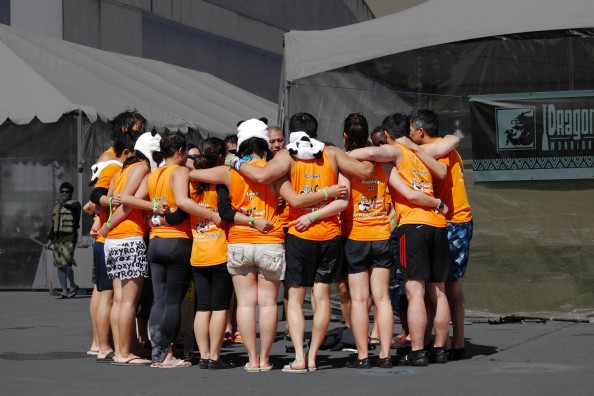 I am proud to say the Windy Panda's dragon boat team represented with a full capacity of panda heads at the festival and believe you me, we represented with passion and commitment at the San Francisco International Dragon Boat festival 2012.
Saturday 15th September 2012
The start of the weekend of 15th September had dawned upon us on an early yet gloomy morning. The bay of San Francisco was nothing short of a foggy start to the day and was cooler than most places within the Golden State of California. This made us deliberate whether we really need those extra layers (most of us not even bringing extra layers!) or brave the gust in summary t-shirts/shorts to set out our day when we arrive in Treasure Island, the setting for the 17th annual dragon boat festivities.
We arrived 'fashionably late' at an arrival time of 8am. Most, if not all of the other dragon boat teams had arrived much earlier, hailing from many states of the US, to their neighbouring friends of Canada, A very macho German team and of course the Windy Pandas from the UK.  As we walk towards our base camp our bright orange t-shirts had a sort of radiance as the Pandas gradually strolled there. There we were greeted by our team captains Jez, Ting and Vo who had arrived at the earliest for team captain meetings.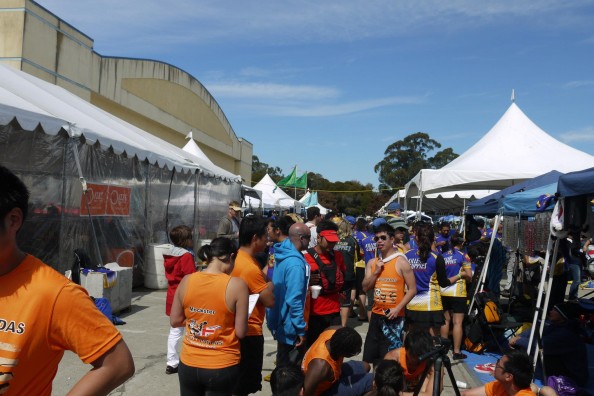 The Dragon Warriors dragon boat team kindly hosted us along with the Killer Guppies team for much of the weekend and what a great host they were. Their energy and presence showed the Windy Pandas they were a serious team yet they knew how to have fun. Our teams mixed well and we enjoyed the banter that comes with the team GB vs USA accents, comparing words and of course the drinking. More on that later!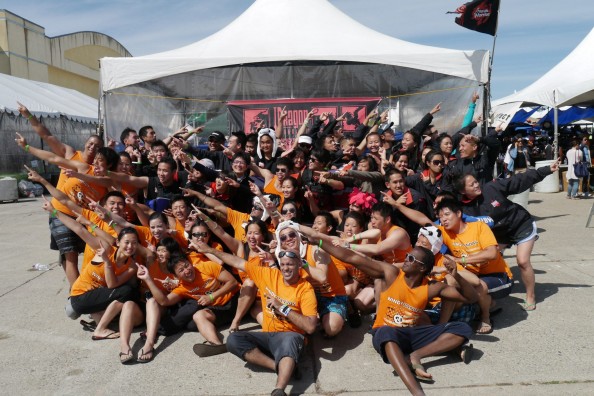 The abundance of food provided was nothing short of delicious and with the touch of a mum's home cooked-esque style we certainly felt at home and warmly received.
There were also plenty of festivities to do around Treasure Island and not to mention the many freebies we obtained! One thing that particularly stood out was a stand offering free fruit/vegetables in way of a wheel of fortune game. Participants would spin this to see what kind of free fruit/veg they would get. The queue or in an American term 'line' for this was very long filled mainly with the elderly. It was a funny yet adoring site to see!
Also between races a few of us had tried the U.S army marine's corps challenge. Do 21 pushups and a get free t-shirt. Sounds simple? Well most of us can only get around 10! Our star athlete Vo however pushed the barriers and achieved 21.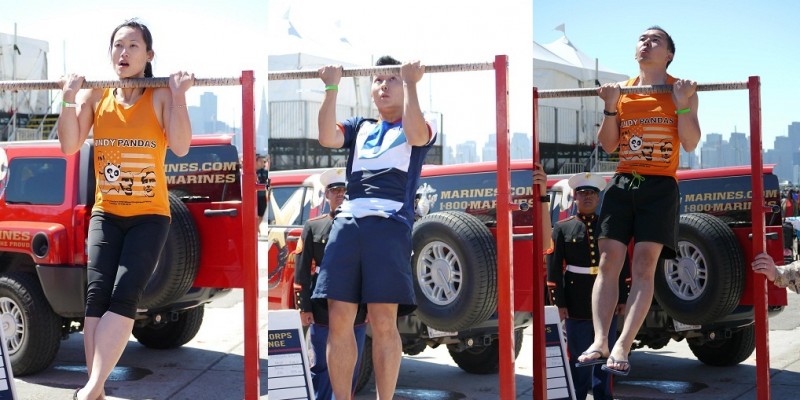 (Bing, Cheng, Alan trying their best to reach 21!)
Many months of training had now boiled down to our first ever race across the Atlantic Ocean. We were up against some of the best teams in North America competing in 500m races and rightly so that some of us were nervous if not a little tense. But if there was one thing we carried, that was an abundance of enthusiasm and genuine team spirit. The pandas were equally pumped and excited to compete against the best.
Prior to the race our team captains prepped us and reinforced the idea that we work as a unit with an emphasis on timing, technique and power. Jez voiced out loud and clear that we didn't just come here to represent and have the time of our lives, we came here to give 110% of our energy to get that win.
1st Race – Seeding
Perhaps we were a little too pumped! The pandas gave an explosive start and were leading with a fine margin against a team known as My Bad. We were truly on our way and making our mark with our first race of the day. However as the 250m mark approached us it was somewhat clear that our quick lead out of the blocks had started to wind down and the narrow gap had widen somewhat. Still the Windy Pandas had been taught from every training lesson that we do not stop giving everything we've got until 'easy' had been called, or in as the Americans say 'Let the boat ride!'
Instead the fight was on between us and the team across our base camp 'Ripple Effect'. They narrowly just beat us by 0.27sec or some could say by the tip of the dragon's whisker and so this left us to a 5th place position out of 6.
At the end of the race we gathered around as a team knowing to clarify we had done well from the start but lost our edge from the last half of the race as our composure somewhat deteriorated as the race went on. Perhaps this was due to jet lag? Or an early morning race was not kind to us? Who knows but as we warmed down and the team captains gathered to discuss strategies we knew the first race was done and dusted and so we had to make sure we up our game for the 2nd race in order stand a chance in the competition. This time against some familiar faces – The Dragon Warriors team 3.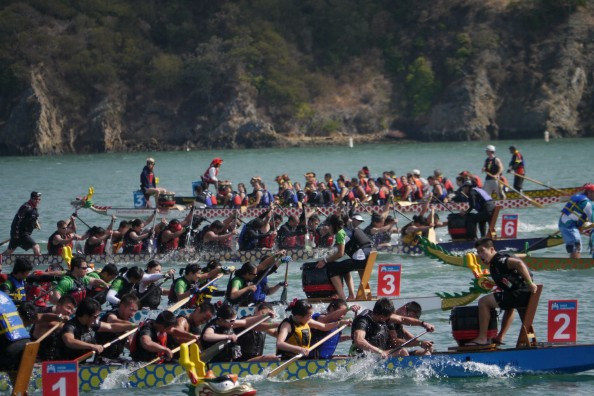 2nd Race – Quarter Finals
After a small break and some team substitutions it was time to get back into boat for our quarter finals. Our seeding from the first race had determined which position we would be in and we still stood a fighting chance for a place in one of the mixed division finals.
With the warm up finished and team prep talks underway the emphasis this time was to notch down the speed from our previous race. By doing this we can minimize the risk of burnout and keep a steady pace throughout the race.
Right from the get-go we again had a quick push. Our reaches after 20 quick starts had strived to become longer and forceful. The Dragon Warriors teams 3 were well on their way to finish first leading the pact early on. Whilst we might have conceded to not come first that certainly did not stop us from doing our best after all the higher our race finish the better of chances for a final.
The DieselFish Green team were very much neck on neck with us. It was a real battle for 2nd against them and they just skimmed past us to 2nd place by only 0.50 seconds. The Windy Pandas finished 3rd with a time of 02:37:24secs.
Dinner
As Saturday drew to a close we were ready to go back to our rented apartment, freshen up and head out to Chinatown for an evening meal with our host DW and the KG. Like some notable pandas, we were late. Again. Nevertheless we arrived on time for the sumptuous dishes to arrive. We randomly sat in different tables apart so we can mingle with the other teams. DW had interrupted the evening for a special presentation on stage which was led by their team leader Nicholas Yee. Here they told us how the DW was formed nearly 25 years ago and still breathe and live till this day. Our team Captain also joined them on stage to say thanks for being wonderful hosts and to exchange pleasantries and gifts. One of which the DWs I am sure are thankful to be given a bottle of marmite ;). The evening meal was a good way to meet the teams and we certainly appreciate DWs effort in organising this dinner.
Sunday 16th September – 3rd race Semis / mixed mens team
On the next day our recreational semifinal race unfortunately did not lead us into the finals as this time we finished in 4th with a time of 02:35.56. Our mixed team challenge with both the pandas and DWs entered the men's race and it was clear from the offset we were up against very strong and solid teams. Along with our different styles of paddling we were not able to progress. However we almost certainly believe this was a good bonding experience racing together for the first time and we can definitely learn from each other. After all of this we were now focused on one thing…
Consolation Final
This final was for the taking. We knew we had a real chance of coming away with a medal if we got our strategy right and our commitment to the very last stroke of the water. As we lined up for the six boat final, I recall how silent everyone was. I was ready to give it my all. As the tannoy announced us to move forward to the start line, I can feel the tension. As the horn sounded, we were flying! The first few strokes felt strong and powerful and before I knew it, I can hear the cried of the other teams behind us. We had Keith from the KG as a steersman as they call it here in the US, and he gave commanding motivational calls throughout. Around halfway point now and I can feel the emotions and determination of everyone as they were still in silence and focussed. 150m to go, and I can hear a team drawing closer with each stroke. 100m to go, their drummer is getting closer. The silence was broken as I can start hearing my team mates and friends shouting for more from everyone. 50m left, I can feel the other team side by side, this is where you grit your teeth and give it absolutely everything you've got! As Jez called for the big finish, I can feel how much we wanted to this. The race had ended and I had no idea if we have won.
As we went back to our camp, word have spread that we have won, unofficially anyways. This was followed by what I can best describe as a big group huddle jumping in estascy as we celebrated as if we were the overall champions. But we didn't care. We had won by 0.75secs, less than 1 second in fact. Less than the dragon's nose and whiskers! 0.75 was all that separated between the WP and the 'Our Bad' team. This was an unbelievably close race and we certainly felt the 'Our Bad' team breathing down our necks as we drew closer to the finishing line. It was like a 100m final photo finish.
But we managed to pull it off with hard work, grit and determination. We had won! Once we found out we had won there were jubilant celebrations amongst the Windy Pandas and DW. We even had celebratory vodka shots and NFL style water splashes on our team captains! So we stayed until the end of the afternoon to collect our medals on stage (along with a Gangnam style flashmob!) proudly bringing out the flat of Great Britain to show we came all the way from the UK and wanted to represent what we have achieved in Treasure island.
This was a proud and momentous day to remember as an individual, team and the spirit of the Windy Pandas.
TEAM GB! TEAM GB!
As our last night in San Francisco drew to a close we couldn't say goodbye without our last final competition. Team GB v USA drinking! After a lovely meal eating and breaking crabs at a nearby restaurant we felt very exhausted from the shenanigans of the day. But after a rallying call from a few Pandas we felt compelled to meet up with DW for a drink.
Wow, this was a decision we would never regret for times to come! Probably our best night in San Francisco as drinking with DWs was a hell of a lot of fun! As we walked in with our pink driving licenses we were embraced by DWs and other teams with a huge cheer. And in no time whatsoever the drinks had started to flow in and what became our inner exhaustion all of a sudden became filled with excitement and laughter.
Jonathan Kong from DW proposed a drinking game that would make us deep dig into our patriotism. 5 beers lined up, 3 guys and 2 girls from each team in a GB v USA drink off to see who can drink the fastest! Our team did not disappointment especially from Vo and Fanta as we won the first round. Needless to say Fanta stood up and soldiered even if she didn't feel too good at the end of it! With Cheng decidedly to shout out loud Team GB, the pandas got into it and chanted it as if we were in the Olympic stadium and along with their USA chants it was a night to remember.
So as the drinking, dancing and chanting goes on the DWs and Windy Pandas formed a special team relationship even if it was only for a weekend. Dragon Warriors coming to London one day? Who knows!
The Windy Panda's trip to the San Francisco Dragon Boat tournament had now come to an end and onwards we go with our journey towards Las Vegas. It was truly an unforgettable experience and perhaps fittingly two words can describe this part of the trip – Truly Epic.
By Cheng Ly – G5 Panda.
http://www.youtube.com/watch?v=PSVVOIkLYbM
http://www.youtube.com/watch?v=PeHZmrjykMU