Marlow Town Regatta and Festival, Sunday 9th June 2013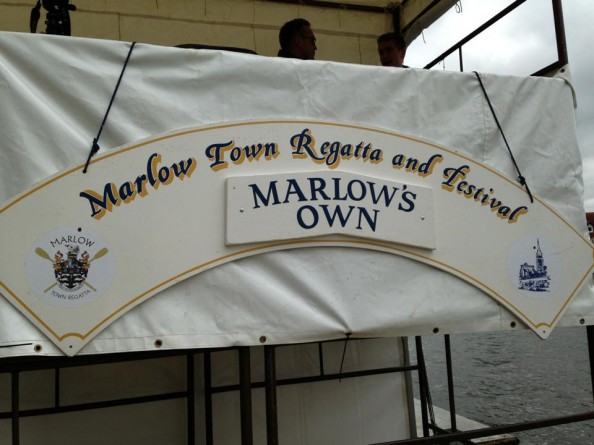 Team Windy
The previous night, I had given myself so many mental reminders – remember, sleep early, you're paddling tomorrow! Of course, this did not happen. I was just too excited for the first regatta of the season. A few hours later, my alarm went off at 7:30 AM – the time we were supposed to leave! After some frantic panicking, we realized that the rest of our carpool gang was going to be late as well as the overground to Canada Water was closed down. Finally, after finding Long (after a long while of "where's Long? We've lost Long… Have you seen Long?"), and filling our tummies with some McDonald's breakfast, we began the hour-long journey to Marlow with Cheng as our driver, not before realizing that the postal code of the regatta location was nowhere to be found on the event website.
We spotted the event from outside the parking lot as the boys in the back of the car (Long, Christian, and Pol) zeroed in on the people sporting skin-tight Lycra tights walking into the parking lot – "Yep, they must be paddlers."
We found Ali in the parking lot and made our way to the Panda camp where the rest of the team was mostly already there. Then we were briefly briefed on boat safety and given a team photoshoot (c'mon now, we're the best lookin' team around).
One of the first teams to race was team "Coming from behind".. who were sadly, not coming from behind as the announcer let everyone know. Another team was also given equally disappointing commentary from the announcer as he narrated the sequence of events – "We have two teams going head to head… and as for the last team… they… they just don't stand a chance." The effort the teams put into making sure everyone on their team was in fancy dress was incredible (we had men dressed in skirts, kilts, wigs, teams with clown wigs, hula skirts, etc…)
After an exciting warm up, and an as always, inspirational pep talk from our one and only Captain Vo Su, Team Windy was called up for their first race… against the "Miscellaneous Magpies… AWOOOOOOGAH" (not joking, that was their team name), fine, strapping, young lads decked out in sailor gear complete with shades saying "LoL" on the frame, and team "Old Farts and a Tart". Us Windys came in second with a time of 1:11:30. I guess our wind just blew the farts away… But the boat was rocky – we were simply just too left heavy! Looks like the right side could do with a few burgers.
In our second race, team Windy blew past Hawaii Five O and Could Possibly Sink, both dressed up in fancy dress gear with a remarkable time of 1:10:12. This time the sync and pace were much better – we were starting to get in the groove and become more in tune with one another, but we weren't ready to settle just yet – only 9 teams with the top times would advance to the semi finals. Winning a heat alone did not guarantee these coveted spots.
Finally, we took part in our last race. This time determined to make no mistakes, Ali and Pang rearranged the boat to ensure that the weight was balanced on each side. We were up against OG Pirates and Coming from behind. Sadly, Coming from behind… did not come from behind, and the OG Pirates did not manage to rob us of our win.
We head back to camp and waited for the results of the who would be advancing to the semi-finals with much eagerness and anticipation. Would both teams be advancing??? Would we have a chance at advancing further than we had last year? Would all of this training have paid off? Of course, it's never about winning, but it wouldn't hurt to have more water time and more chances of proving ourselves as a team.
Then it was over.
The good news? Both teams Windy and Panda were in the top 9!!!
The not so good news? Both teams Windy and Panda would be racing against each other.
Then it was on – just a sense of friendly intra-team rivalry, of course! 😉
Team Windy, Team Panda, and The Dirty Oars got down and dirty. The boats were neck in neck! As I looked to the side of the boat from my spot on the drum, I could not tell who was ahead of us, who was behind us, or who was leading the race.
When one boat inched forward, the other boat followed suit. All three boats crossed the finish line at the same time. We all waited in anticipation as the winner of that race was announced… It was a very tight finish – One team had finished in 1:12:45, one team had finished in 1:12:61, and another had finished in 1:12:79. The difference between first and second in this race had literally been half  stroke – one team had crossed the line on an up stroke, while the other team had crossed the finish line during the back/recovery of their stroke. Who had finished the race a split second ahead then?
TEAM WINDY!!! We were absolutely elated, yet scared at the same time because we were now up against the top teams in the event – our original competitors: the Miscellaneous Magpies, and a team of junior team GB paddlers: the Wokingham Dragons (teenagers who were nowhere near as hench as our engine room, yet had smoked nearly every single team at the regatta).
Coach Paul gathered the team and gave them a pep talk – while these teams had been out-performing us all day, it didn't matter. Win or lose, we would give them a run for their money – we wouldn't go down without a fight. With this thought in mind, we headed down to the dock into the boat.
One could sense the determination in the boat from miles away. Everyone was ready to give it their all and not hold back – it was the last race of the day, and the one that would count the most. With our paddles in the water, we waited for the familiar call of: "Attention please…" and then we were off.
As I sat on the drum, I could feel the surge of power and determination from every single member of the boat. Everyone was digging as deep as possible, and making sure their stroke was as long as possible. The start alone made me feel like I was going to fall off the boat! Every stroke after that was in sync and just as powerful last. When the finish was called, I could hear myself yelling: "EMPTY THE TANK!!!!" I didn't even have to ask as everyone gave every last once of energy they had to cross that finish line. I could see both Ali and Jack out of the corner of my eye – these pacers were not ready to quit just yet! And then it was over and we had no idea who had won – again, all three teams had crossed the finish line at the same time. The Windys left the boat feeling accomplished and proud of themselves – it was the best race they had paddled all day. Paul collected the team and we formed a "tunnel of love", congratulating the other two teams as they came up from the dock – it's in these moments that one comes to really understand the spirit of dragonboat – it's not always about winning, it's about individual team spirit and overall pride for all who participate in the sport.
I think it might be safe to say that it didn't matter that we didn't come first.
As Drake would say (although not in this context): "Started from the bottom now we're here, started from the bottom now the whole team here."
We came third, with a whopping time of 1:07:36, just moments behind the other two teams (1:06:96, and 1:07:15). After the team took down the tent and cleaned up, we headed on over to Haymarket to grab some well-deserved grub!
Thanks to the captain, vice captain, and our lovely miss vice vice cap'n for all of their time and effort in organizing the event! Thanks to all of the pandas for showing up on time and giving it their all!
Cheers all and go hug a panda! 🙂
xxx
~ Karen "Shower gel" Ngo
Team Panda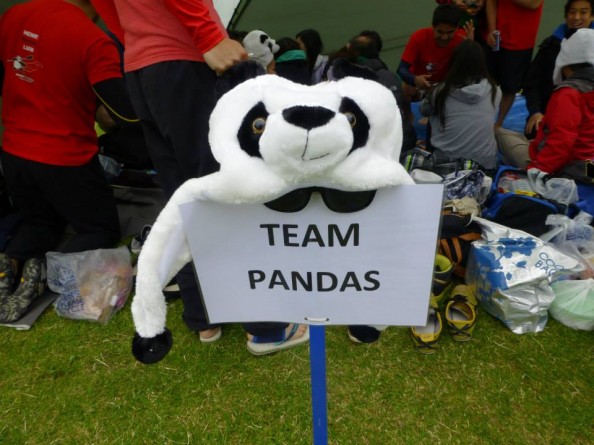 En route
It's another cold, grey Sunday morning in London. A typical setting for Dragon boat racing.  I got up around half 6am. Ok ok! 7am. Hit the shower and got ready. As I left the house and set off from Hackney with my eyes half open and a tube map in hand, I couldn't believe that today was race day.
What does this mean?? I did not know what to expect fromk the day, I just saw it as another day to have fun with the team. There was some talk the week before that we should do better than last year. Having no reference of what last year was like nor any previous race experience, my expectations were low. The only race we did was the last two in training where we beat the more experienced members of the team.
I met up with Nelson and Charlotte in Battersea, and we made our way to Marlow. I remember learning that Charlotte was doing a degree in Acupuncture and was joking around saying, "you should ask if you could learn how to do Jet Li acupuncture."  The mood during the journey was relaxed and cordial.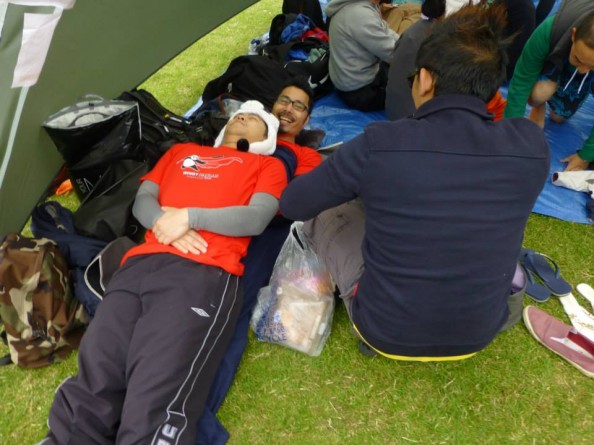 Arriving at the venue, then shortly after setting up camp, the atmosphere was fun as usual. It felt more like a Windy Panda picnic.  I remember Henry setting up his camp with his pillow and ice bottle.  "I know right my phone also said 20 degrees for today".
The Race
"Come on guys! Warm up!" shouted Vo in the background.  After a brief posing err.. I mean stretching session we split up to teams. This is it!! I remembered, "ok game face on!"  I looked in my phone and I saw a picture of a Panda breaking a bamboo with its bear teeth. "PANDA SMASH"
WHOAAA! This was for real.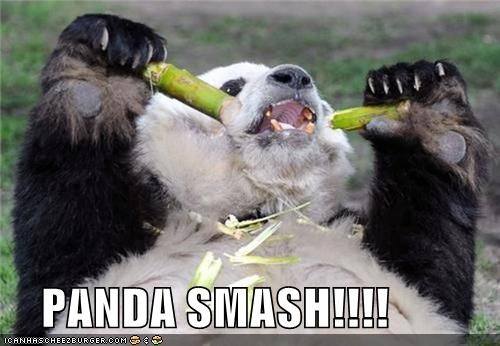 "Remember guys you can lose the race but still go through if your time is good,"  Paul emphasized.  I was thinking that we did not need to win every race – we just had to be fast. The line-up came up. Looks like I will be sitting this one out.
Team Panda got called out.  A bit relieved that I did not need to step up, shortly after Vo asked "can you drum??" suddenly nervousness crept in and I mumbled, "I can try??"
"Never mind we got someone to drum," Vo shouted out.   Bazinga!!  I did not need to go for a swim today.  Shortly after Team Windy got called out,  I remember walking with Ali who was instructing me to take photos and video the race!  "Yes ma'am," I replied.
Pointing there, pointing here and posing. Bless her. Click click shoot was the action.  "Make sure you video the race and save some B A T T e r y y y . . ." I heard as she walked up to the boat.  I just walked away with a smile. Everyone seemed to be nervous as well.
The first race kicked off! Team Panda had a swift start, pulling away right from the get go!  SWOOOSH as they went steaming ahead. The practice on the starts was showcased there as the Pandas extended their lead almost 2 boats lengths away from their closest competitor.
I remember Paul asking me, "is that them??" I replied that I wasn't sure as they gathered pace and broke away from the pack. DAYUUMM those guys can paddle. Nearing the end it seemed that they eased off the power. It really become apparent as the other teams managed to gain ground.  Nevertheless, it was a convincing win – 1min 12sec with the nearest boat coming in at 1min 29sec.  There were still some improvements to be made as the back half of the boat was out of sync. Paul was not completely convinced, but it was still a victory to be proud of.
Second race for Team Panda.  With a mountain to climb going against the same team who took first blood from Team Windy, we all knew they were not push overs.  "Awooooogah!! "
As we set off, a huge roar came from all teams. Once again team Panda edged ahead of the two other teams, pulling away a quarter of a boat length.  The third team, Paddle up your Creek, one of the known favourites, started to pull away from the pack. This drove the Magpies to pull away as well.  It has become a two boat race. Each team was pushing one another to become faster. This has left Team Panda to sit right behind both teams riding the wave. Team Panda finished last with a disappointing time of 1min 16sec.  There was some work needed to be done if we were to make it to the semi final.
Looking back, we paddled hard and fast but we never really got the right momentum and reach necessary to propel the boat ahead. This caused us to lose sync and remain behind the other teams. Something did not feel right when we came off the boat. We navigated into a disaster! We were wet, cold and down. I looked around and I saw blank faces.  Each and every person was just an empty shell of what they once were before the race. We knew we needed to pick ourselves up and sort out the kinks.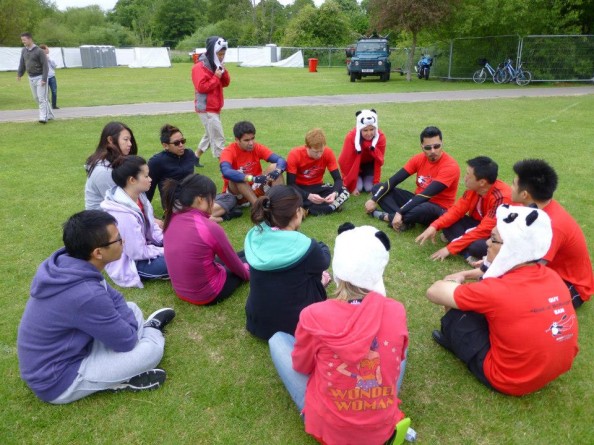 We sat down as we normally did and had a chat about how we felt the race had gone. The majority felt that the boat was heavy. We were paddling fast but paddling faster does not always mean the boat will go faster. The position of the boat was on the outside meaning we took some of the cross wind adding extra drag to the boat. (I added the last bit but it sounds believable HAHAHA).
Warm up, for the whole team began as we prepared for our final races.  Team Windy lined up and they looked focused for their third and final race, determined to do better than the last two races.  As they set off, Team Windy's impeccable start enabled them to pull away from the pack.  You know what this is… (I imagine Jack saying something like "BEAST MODE"). They pulled away leaving the other two teams and never looked back – a victory in 1min 12. They lined themselves up to be one of the favourites of day.  People were saying, "yes, that Panda team was here last year. They look good."
The third and final race of the day for Team Panda was about to begin. There were tense moments – we knew this was it. In my head, I was thinking this is "do or die".  As we stood  there, waiting for the boat to arrive, Vo said,"If you can't paddle with your strength, then paddle with your heart." He looked at all of us with a smile. I was thinking this could be the last time we would be getting on the boat today, let's make the most of it.
As we lined up at the starting line there was silence. Team Panda was waiting, wanting and ready. If I were to look back I can imagine Pandas wearing Viking hats, ready to plunder our way to claim victory. There are no other boats, it was just a free way to the end. We needed a good time to have a chance to stake a claim on the final 9 team spot for the semi finals.
As we set off from the starting line, it felt that we got off fast.  Everyone was paddling long and hard strokes. I remember every 5th to 7th stroke, a shout would call out "Reach!!" We got the momentum going. Vo shouted out, "Right there, hold the pace there Christine!!".
Marlow Ageing dads were gaining ground on us. Towards the end we were digging hard, Joan, our drummer, calling out, "Power, power, power!" The race ended without us knowing who had won. We were that focused until the end, pushing hard with everything we had.  This time it felt right, we all felt the boat glide through the water. We paddled as a team, and we were ready to finish the day with that feeling of a high. No regrets, no looking back. We have given it our all.
We soon to find out that we came out second with Marlow Ageing Dads with 1min 10sec and Team Panda  1min 11sec.  I remember being asked when we sat down how the race had felt for me? I just said "1min 11." There were no words left to say. We picked ourselves up and produced the goods.  We recovered from the previous race and made some improvements. It felt right that time.
Windy VS Panda – Semi final race

Team Panda found ourselves again waiting to board the boat. Team Windy had already set off to the starting line up.  Vo said, "we know they have the experience, some of them have been paddling for up six years. We are the under dogs here, you guys just started this year, but we can certainly give them a scare."
Henry replied: "We have beaten them before."
Hazel: "Yeah, we beat them during the last training."
Henry: "I do not see why we can't beat them today."
"Just treat it like any other race. Don't think about who are we up against," I replied.
As we lined up there was silence, I could see the other team from corner of my eye. Everyone was in the zone. "Come on guys, this is it. Lets smash it."
As we set off, a huge roar came from all teams! I knew it was neck and neck from the start. Team Windy pulled away and we gained back some ground. It was back and forth.  We were in the midst of the race. We knew they were right next to us. There was just a third of the race left to go. The pace picked up I could hear in the background Jez was shouting "Power, Power.. Power!"
From his voice I knew they were pulling away and were ahead. Then suddenly Joan screamed, "Power, Power, Power!" wildly smashing the drum with her face red, her eyes almost tearing up.  We picked up the pace and started to dig deeper. We knew we were right next to them towards the end.
The race ended, "It was a close one, I can't call it if we made it or not, but well done everyone. We stuck with them," Vo said.
The two teams were standing in their respective groups. The time was called out: 1min 12.45sec.  1min 12.61sec,  and 1min 12.79sec. "The winner is Team.."
Some started cheering, others were holding their breath. I was cheering already because in that race there were two teams whose names both started with "Team" so either way it felt like win for all of us.
Team Windy took it!
We all crowd around into one big huddle. Group hug. There was camaraderie and sportsmanship.
I remember Paul saying, "Sometimes it all comes down to a split second race. This is what dragon boat racing is all about. You didn't win because we were faster. It so happens that on that split second you were coming off the power and we were on the power. But it could have gone either way. It was very close"
The Final
The teams in the final were the following:
*Wokingham Dragons
*Miscellaneous Magpies Awooooogah
*Team Windy
There goes the Magpies again!  For the second time that day Team Windy were up against them. Their best time of the day of them was 1min 10sec.   The other two teams held the fastest time of 1min 04sec and 1min 07sec.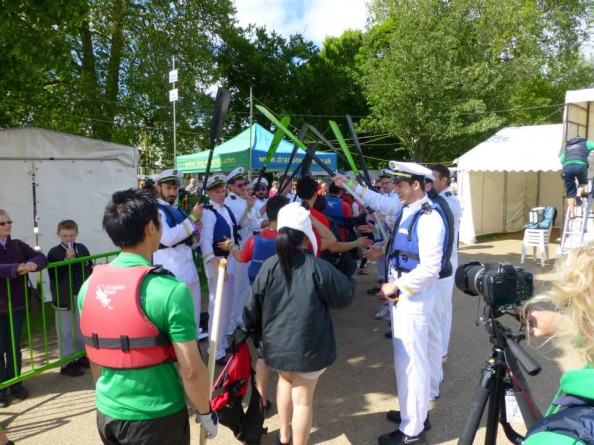 As the Team Windy left for the starting line, some of the crowd were shouting some amusing stuff.
Person 1: "I will give you fifty quid if you win boys!! "as he shouted to the junior team Wokingham Dragons"
Person 2:  Shouting at the stewards: "come on, hurry up with the race! Those boys are off to bed soon!"
And they were off! The Dragons kept a steady pace and started to pull ahead. The magpies were right behind them. With the Windy just a few strokes behind, the pace was picked up by the Magpies and they took the lead for a few second as the two other teams caught up. It was neck and neck coming towards the finishing line. We didn't know who won as it was down to the wire yet again.
I turned around and shouted.. "So where is that fifty quid?" A short man nervously walked aside and everyone pointed at him laughing and then said, "It was him."
It was close yet again: 1min 06.94sec, 1min 07.15sec and 1min 07.36sec.
Here is the result of the Final race:
Gold:  Miscellaneous Magpies Awooooogah
Silver:  Wokingham Dragons
Bronze: Team Windy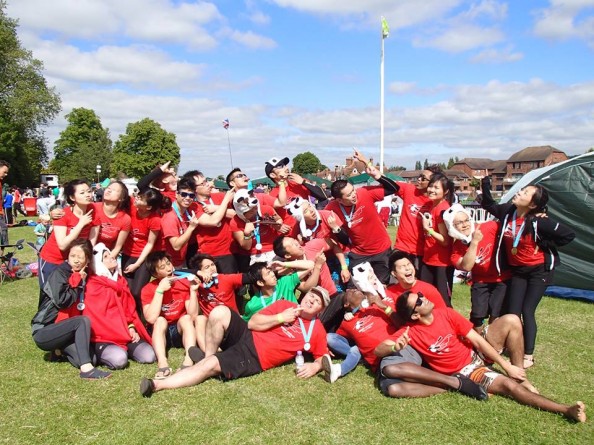 All and all, I felt it was a great day out for the team – first competition and first hardware of the year. Even though it was a different colour from what we wanted, at least we did not go home empty handed this time. I believe we all did a good job at the end. Even Paul had a smile on his face.  That was a good enough reason to say it was a good day. Having experienced my first race, I was quite happy and hopeful as it gave me more motivation to improve and train harder.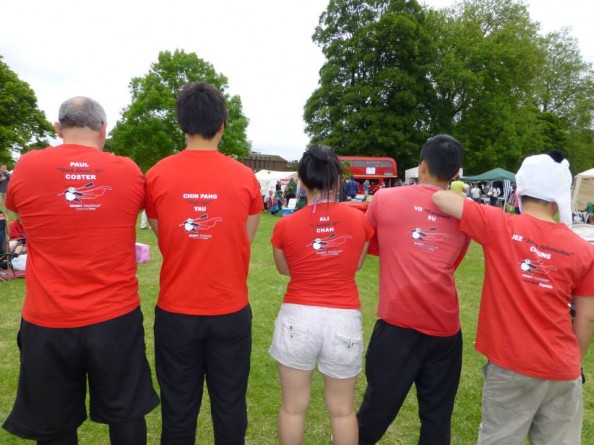 I would like to take this opportunity to say thanks to the captain Vo, Vice Vice Ali, Vice captain Pang, chairman Jez, and our head coach Paul. This team is very well organized and I thoroughly enjoy paddling with everyone. I would also like to thank the rest of the team as without you boys and girls, there is no dragon boat team.
One more time: Who are we? WINDY PANDAS..
Ray "Mr Happy" Hirang Signing off