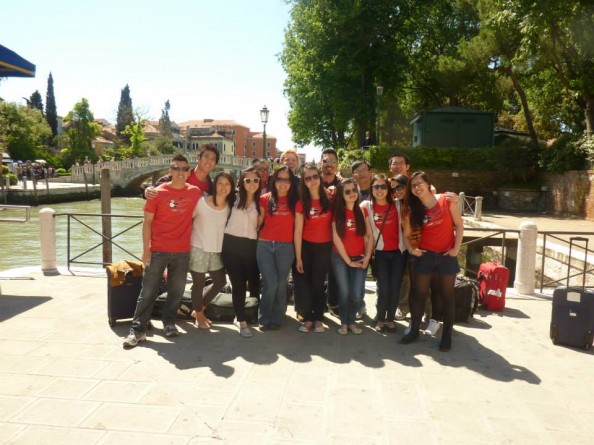 Venice Vogalonga, Saturday 18th May 2013
Gelato, pasta, pizza and beautiful scenic buildings…The Windy Pandas flew off yet again for another international event and this time, we headed to the land of Italy (to be more specific, Venice) for the 2013 Venice Vogalonga …and boy, was it a trip to remember!!!  We had everything from blood, sweat, bloated stomach … AND A SUNKEN BOAT!!! But more on that later…
The annual Venice Vogalonga is a 32K (YES, 32K!!) non-competitive "paddle" held in May featuring all different types of human-propelled boats winding through the Venetian Canals in celebration of the city's maritime culture and their love for a good festival.
Note: This trip almost never happened!!! We received an email from our Captain Vo saying it was a no go as there wasn't enough people committed. I was well gutted as this would have been my first event for the Windy Pandas…and one on international waters too. Never mind, maybe I could concentrate on training for Marlow instead I said to myself (and save up for Vancouver 2014).
A few days later to my surprise, a Whatsapp group was created by our Vice Vice Ali called "Venice Pandas 2013". Ali invited those who said yes on the Windy Panda Spread sheet to once again give their 100% commitment to the trip and she'll start planning. Within an hour, 12 pandas were on board and the hunt for a boat was on. A week of silence in the group went by and no sign of a boat, despite Ali and Karen's effort; it was looking like again, our hopes of going to Venice was dashed.
A miracle happened a few days later …We found a boat! Finally, we could get round to registering for the event; arrange all the trivs and booking our flights, but prices for the flights were off the roof. If I remember correctly, it was as high as £209!!! A couple of days later, an urgent message in the Whatsapp group from our Vice Vice telling us to book flights NOW! Whola – panda mission on Ryanair website trying to click through pages of extra costs and finally return tickets booked for £65. Bargain!!! So, flights…booked, trivs…collected, T-shirt….designed and printed, boat…hired, hotel…checked. 16 good looking pandas….no stopping us now, WE ARE OFF TO VENICE!!!!
As a member of the G6, this is was my first event for the Windy Pandas and I was excited as hell. Granted, it wasn't a competitive race so I probably didn't have the same adrenaline rush as I would have in a race, but to represent the Windy Pandas in another country on my first outing, the excitement was still there. As the Venice team was flying out Saturday morning (6:25AM!!!), we held a training session on the Thursday before we flew out, in which we paddled 13k, taking us a little over two hours to complete. This gave me confidence that we should be able to complete the 32k in around the four hour mark – EASY!
When we arrived at Treviso airport, we were amazed at the weather. Coming from the gloomy and dull weather of UK, the sun was shining high and bright in Veneto….and boy was it hot!!  First frantic rush of the holiday: we landed at Treviso and had 2 minutes to board everyone on the coach to Venice; ultimate dash to buy tickets….quick, quick, quick…. then we realised we had a whole 30 minutes until the coach left…"hand to head"….
We took the coach to the "bus ferry" station, where we stood there for another 30 minutes, confused as to what tickets to get and how much it will all cost, some pandas were counting euros where as others were using fingers and toes to calculate which method was cheaper……. Tick tock tick tock, we finally got on the ferry, where we was taken a wonderful ride to San Marco, going through some of the most beautiful scenic routes, from the Doge's palace to the Santa Maria della Salute, it was really pretty breath taking.
So, we finally arrived at San Marco where the Venice Pandas were split into 3 groups according to our sleeping arrangements. Addio – see you all at dinner – Panda free time! While Ali and Long went to meet the boat guy and collect the pre-registration forms, Christian and I went to San Marco ferry station to meet up with some of the girls for lunch and to do a bit of tourist stuff. I was so angry at the girls >.<  they made me wait 45 minutes and then they arrived eating pasta!! So us boys had to wait until dinner in the evening for food. Hungry Pandas =(
First evening in Venice, first group dinner at a lovely little restaurant in Realto called Osteria Bancogiro. While we were waiting for the food to be served, we played a game called "Interesting Panda Facts". Ali collected facts from all the pandas before we came to Venice. Each fact was read out and we had to guess who it belonged too. Very interesting indeed – we had a panda who hated being called cute, to modelling for Diesel, to flashing a bully's coat down the toilet, scared of eating kiwi and talking to teddy bears.  I will not expose whom they belong to – to protect me, myself and I =p. I was actually nervous and hoping that mine wouldn't be read out as I feared I told Ali a bit too much – oh well, damaged done =(.
Dinner ended around 10PM, belly full, super tired with all the travelling, so time to make our way back to our hotels – we have a big day ahead of us tomorrow. Tossing and turning in bed, I don't think I slept until way pass 1AM.
Sunday 19th, 7:30AM…the time had finally arrived – Yawn! Mass panda meet up at our apartment where 4 of us stayed. 8 of the pandas were leaving the same evening, so they all strode along with their luggage's to our tiny 2 bedroom apartment. Last minute queue for the toilet, make up on, trivs collected and off we went. First stop – San Marco ferry station, 3 minutes ride to collect our boat. The weather was dull; totally the opposite of what it was the previous day.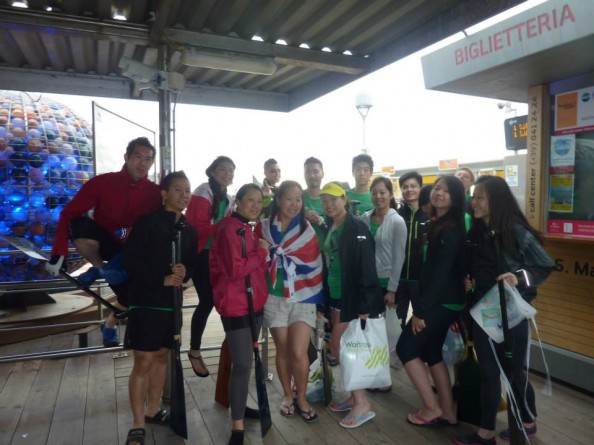 We met our helm, Andres and found our boat too. It was a little cold, so Pang called for a panda warm up. The alleyway was small and tight, so we formed two rows doing our stretches – passer-by had to walk between us and we had to look good, so Pang shouted touch your toes. Opps, I think the locals got a bit of an eye full. So, a bit of time left to take a few team photos (natural pose, obviously), boat loaded and OFF WE WENT!!!
VERY IMPORTANT INFORMATION BEFORE YOU JUMP TO CONCLUSIONS: we were asked how many life jackets we wanted. Some pandas requested one and others didn't want one, so Ali got all us one anyway with a few spare on board.
Finally, we pushed away from the side and off we went. The canals were very narrow with boats docked on one side too. So it was extremely light paddling for 300 meters before we reached the main canal and joined all the other boats. We started to do a few more warm up strokes (50% and 75% power, etc) to the start line, just to get a feel of it. Before we knew it, the horn sounded and the event started whilst we were still warming up – I was thinking "oh crap, no rest?!" so we had to continue. There were so many different types of boats and costumes; some of them had rowers standing up, very interesting to see and the atmosphere was amazing.
A few traffic jams here and there, corners to turn, paddling lightly, arms only, a few power strokes etc for most of the first half =) Andres wasn't familiar with our calls and it was confusing as to what he wanted us to do at times. It didn't take him long to understand our calls and before you knew it, he decided to make us have mini-races with random boats beside us … ''Crew give me 3000% in 3,2,1……'' Andres shouted. As we overtook some of the boats ''Look at my Ferrari…'' Andres shouted again. I'm glad someone was having a lot of fun. ..
Paul's favourite game "Simon says" was next on our agenda – each panda had a chance to make others do 20 power strokes during the game. It was fun…mainly because I wasn't called out for much, so I resting most of the time =)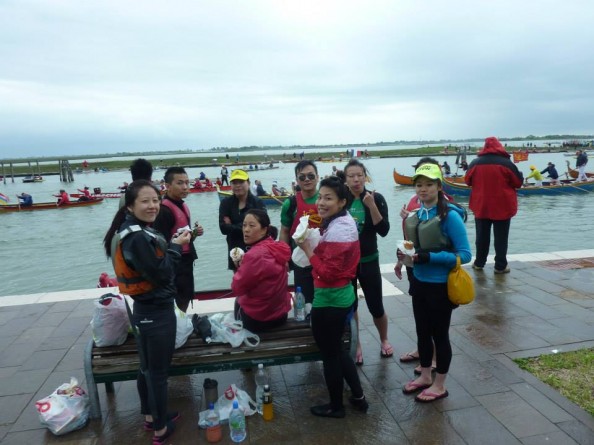 We got to the halfway mark at Burano, where we stopped for some quick snacks and a toilet break. It was sooo cold and wet; I just wanted to get back onto the boat and paddle, just to keep warm. After 10 mins, another quick panda warm up and back in the boat we went.
This time we decided to switch sides. I must admit, it was a little out of my comfort zone paddling on the left, but it was interesting to see how I would cope. I was able twist and reach well (I think), but I can't seem to do power stroke on the left, so if the captains ask me to paddle on the left, just make sure it's not for a race. This continued for about 4k, where we braced in open water to change pacers, switch back to our original side (thank god for that)) and continued to paddle towards the Grand Canal, where we met up with a swarm of boats, literally hundreds of them, waiting to go down this narrow channel.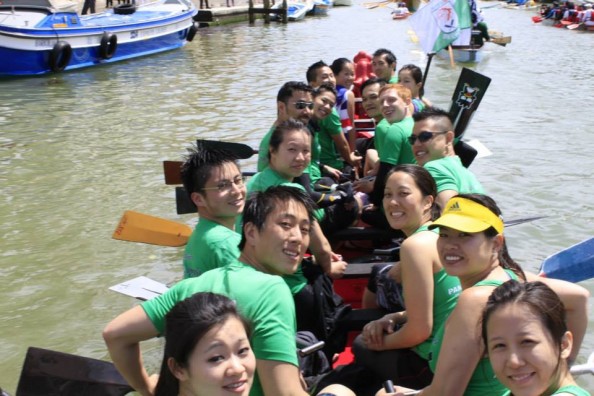 We decided to show off our infamous green t-shirts, and why not? We need to show the Italians who Windy Pandas are. So just before we entered the Grand Canal, all jackets were taken off =) the weather got warmer and the sun was shining as the sky began to clear and blue skies were showing. We were greeted with a great cheers with everyone, from children to elderly people waving at all the boats passing by. I especially liked the old folks standing from their windows and balconies banging on their pots and pans to commemorate our achievement on getting this far; it was a hilarious sight.
What was funnier was that there was so much boat traffic, that other boats were crashing into each other because they were so busy waving back. We made our mark by shouting our usual cheers ("WHO ARE WE?? WINDY…PANDAS!!!") near the Realto Bridge. There was one boat where the girls couldn't keep their eyes off cause it had 3 guys….blonde….topless…I mean, come one, I know they are topless, but what have they got that us guys in WP don't??? yeh, a few missing abs and pecs, but we're better looking (no, I'm not jealous, just stating facts). Anyways, a few more panda calls, queen waves, paddle hi5's, smiling for the cameras and acting natural…… we've completed it! WE FINISHED THE VOGALONGA!!! 32K WORTH OF PADDLING DONE!!!
At the finishing line, we collected our award from a tent that passed us 2 bags containing certificates and medals… I have to be honest; I didn't know we had finish. I thought it was the halfway point and someone was passing us lunch until I asked what was inside the bag. I guess you don't realise how time really flies when you're having fun, especially with the pandas.
We carried on paddling to dock our boat and totally missed a queue which was giving out free bananas. We were about to paddle pass it, when the guy, without hesitation, decided to hurl a bunch at us; it was an amazing throw, landing straight into our boat. We thought it was fun, so we braced the boat and told him to throw another bunch (why not?? Free food, right??); same thing; launched another bunch at us. Only this time, it landed a bit short, so everyone was leaning to the right to catch the bananas, which made the boat rock and the helm fell into the water -@"?&#%&!!!!! Andres said when he pulled himself out of the water …hilarious… Opps!
Happy days, 32k done, medals collected, free bananas and the sun is shinny. Let's return the boat! The water started to get a little choppy when we started to paddle back into open water …THIS IS THE PART WHERE THE STORY GETS VERY INTERESTING!!! The helm told us to keep paddling through the unsettling water whilst the boat was swaying left and right. At first, I didn't think it was going to be that bad, but I noticed water WAS actually coming into the boat at the front and Ali had to stop paddling to bail water… Cheng thought it was a good idea to film all of this and stopped paddling too. This made me quite nervous. A few seconds later, Long stopped paddling to help bail water and the water was getting so choppy that I couldn't concentrate much.
I started to lose grip on my triv, but Pang kept shouting to keep paddling….. There were so many thoughts that were going through my head at that time; what's going to happen? Are we actually going down or are we going to make it? Do I remember how to swim? What if I lose the triv?
Soon, the front of the boat was under water and the current was so strong, there wasn't much we can do, so I called out "life jackets on", My mind went blank and before I knew it, we lost the battle and everyone was floating in the water. ….. and…my iphone that was in my pocket…great…..dead. … =(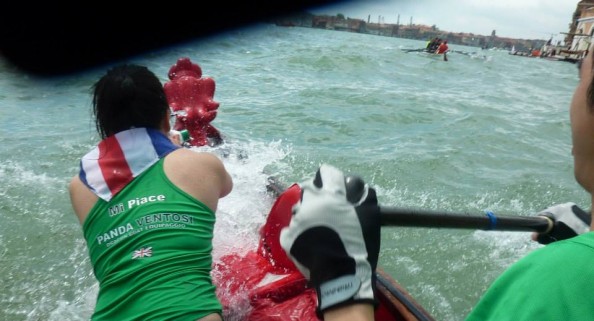 A bit of panic, but organised panic (sounds weird, doesn't it?), no shouting or screaming – it was dead silence. I think the pandas were in so much shock we weren't quite sure what to do. Everyone stayed close to the boat. Henry was a sight to see as he was trying his best to clasp on to everyone's belongings and the boat, making me think how many arms did he actually have? Maxine was swimming around grabbing belongings too whilst Pang had to rescued Yan and Ali saved Cheng from drowning. All very manic but under control too.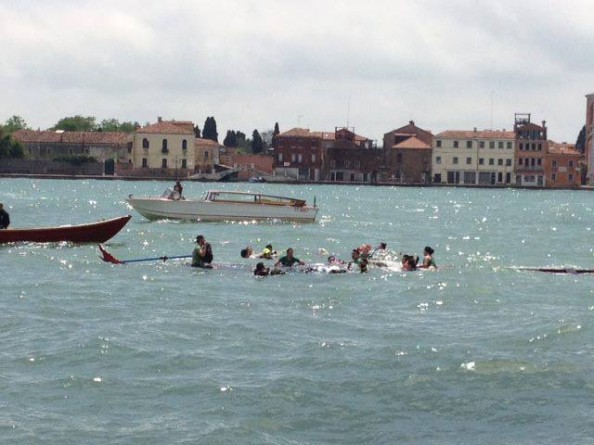 Rescue boats came slowly – one by one each panda were pulled out. One of the boats came so close it was crushing Fanta between it and our sunken boat. I had to push the boat apart so they can save Fanta first. After collecting Fanta, they didn't come back for me as there was too many people on the boat (the b*****ds!!!) . So, I had to wait for the police boat, which carried Cheng, Ali, Henry and I to the docks.
Finally on dry land, we survived it! Only 300 meters away from returning the boat and we sunk! Hmm, I didn't know what to think – I was pretty hungry at this point, so I ate the last energy bar that was in my pocket (still edible!!) whilst all the pandas gathered on a massive tanker to make sure everyone was ok and counted our losses. As far as I know, we lost our certificates, flip flops, gloves and my lunch!!.Everything was wet, phones, cameras etc but everyone was save and no serious injuries which was the most important thing.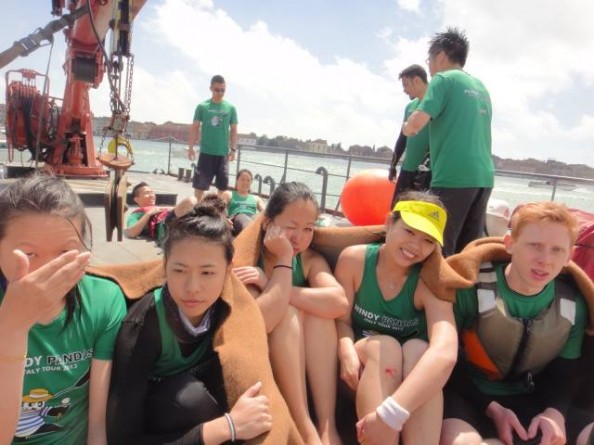 The tanker took us back to San Marco, where we all went back to the apartment to clean up. A production queue was formed to shower 12 pandas in one bath room, once fully dressed and looking smart again we headed out for our final group dinner where we reminisced the paddling adventure and the sunken part too; giggles and laughter it is now reflecting back on the who journey.
After dinner, half the team had to say farewell as they headed home and the remaining pandas was left to tour the remainder of Venice. Only this time, we did it a little differently. A few naughty pandas found a children's play area and decided to act like pandas – swinging on swings, seesaw and climbing frames. … scared a few 5 year kids away, but we're only in Venice once =)
So, our adventure in Venice is ending soon, or so we thought?  45 minutes it'll take to get to the coach station…and we only had 20 minutes!!!  So we decided to gamble it or nothing…and power walked it to the coach station instead of the bus ferry.
It was a journey of countless bridges, pulling and lifting suitcases up and down stairs, Christian lugging the ski bag (he only had a duffle bag, which was smart), reading maps upside down, checking directions on Fanta's Tripadvisor app, manoeuvring through tight alleyways, dodging dodgy Italians… in the end, we made it!!! We boarded the last coach with 2 minutes to spare…SUCCESS. Long thought it would be a good idea to celebrate with a gelato (thumbs up) and the pandas were on their way home.
And that is pretty much what happened on our trip to Venice. For me, it was an amazing experience, one that I probably wouldn't forget and am glad to be a part of it. I hope that there will be many more adventures like this to come…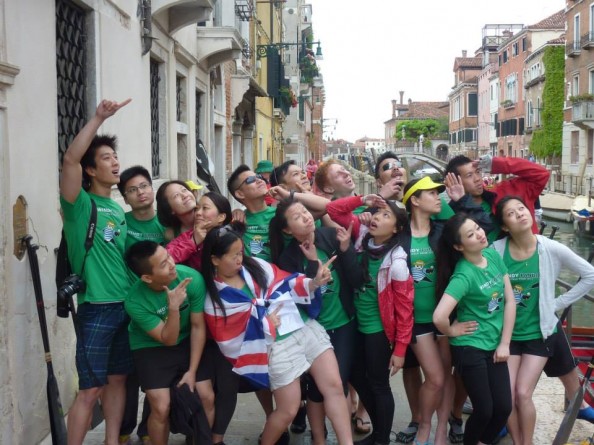 I would like to thank everyone who made it to the Venice trip: Ali, Pang, Karen, Jack, Christine, Fanta, Joan, Henry, Christian, Maxine, Long, Cheng, Yan, Elaine & Martin. A special thank you goes to Ali for working her butt off to make this trip happen and never giving up hope, even when the chances were looking thin (and for getting us that medal when we thought we lost it, really chuffed!!!). Another shout out goes to our coach Paul, who trained us for the Vogalonga, two nights before leaving to Venice.