Worcester BDA
Sunday 29th August 2015
"Erica, you're going to write up the race report for Worcester right?!" asked Captin Vo. "Errrrr ok….." I replied. Soooo, lets take it back and re re-wind…..
The Journey Up
It was a sunny Saturday before our third BDA race of the year and, some of us decided to venture up to Worcester to explore the grounds (and hopefully, get a decent night's kip!).
We took off in Sensei's (Jennifer Chung) car (followed by Bam Bam's (Quy's) car). With a little bit of luck, we had DJ Long Time at the decks spinning some banging tunes, who was supported by the singing sensations, the Hulk (Leanne Cheung) and Freestyler (myself). As the journey came to an end we even had special guest Cheng, joining in.
Finally, destination reached, food shopping done, we were met with some disappointment with our evening sight seeing tour ….the only sights we were saw was the amazing sunset over…… a carpark and… Nandos lol. As the evening came to close, we stood outside in the car park to find a beautiful full moon had rised and there, we took a moment to breathe in the Worcester air and gather our thoughts about the following day's race. It was clear that fellow panda, Cheng, was lost in his thoughts whilst gazing contemplatively at moon, so much so that it seemed as if he was "talking to the mooo-oooonn".
Race Day
Race day morning, we started our day with our usual breakfast of champions (McD's) and headed off down to Worcester race course, where the river ran parallel to it. With camp all set up, we started our morning warm up….time to focus and get our race heads on!
Our first race, was a 350m sprint (which some of us didn't realise and thought it was a 200m sprint!) and in our first heat we had the big boys, Typhoon Tigers and Amathus. As we walked along the river bank and loaded into our boats, I felt the usual rush of excitement "Lets do this guys"  I thought in my head. We pull up to the starting line and it was the usual, "Windy, two strokes backwards, one stroke forward" "Hold it there" "Are you ready?" "Attennnntiiooonnn…Go". With my now accustomed roar, off we went….. 1,2,3 up, 1,2 up….1,2,3,4,5,6,7,8, up, 1,2,3,4,5…3,2,1 REACH! REACH! REACH!….. We paddled hard and at one point I thought to myself "Geeeez, this is the longest 200m sprint, where's that finish line!" And, ah this is because I didn't realise it was 350m! No wonder why it felt long!! Finally, we crossed the finishing line! Even as I got off the boat, the adrenalin was still coursing its way through my body and firing into my limbs making me a bit shaky…… First thoughts were…."How did we do?" Turns out that we gave Typhoon Tigers and Amathus a scare, we weren't that far off from them and were hot on their tails. Our time, 1min 31.19sec…..Not bad eh? Back at base camp, we went through our usual feedback….Brilliant start but power was lost during the middle of the trial…maybe this was due to it being the first race, but by god we will improve in the following one!
Our second race was looming and by now, the rains had started to make their appearance and pitter patter on our heads (urgh!) Fingers crossed will it stop by the time we get on our boats? Maybe! This time we were against fellow London team, Raging Dragons (another crème de le crème team)… I guess the feeling of the team (certainly myself) was one of determination, to do better than our time trial and, time to make a come back!  With our race heads on once more………"Windy, are you ready? Attentionnnn…Go". We had to redeem ourselves and, boy oh boy was it close…..It was a bitter sweet defeat, we lost by 0.2 sec (0.2 sec off from being in the Major cup!!) We did however, keep up with Raging Dragons and gave them a run for their money that's for sure!
As the day wore on, we entered into the Plate Quarter Finals, would we be able to pull ourselves back? This time we were up against Pershore Phoenix and once again it was a head on race, paddling side by side…. the times were close, Pershore beat us by 0.46 of a second! Again, we were so so close! Frustrating as it is, we were now scaring the bejesus out of the other teams! Yeah that's right, you should be quaking in your boat shoes people!
Throughout the day, comments were well received from other teams: "Good race pandas" "Cor blimey, you gave us a run for our money there" "Phew, that was close" "You shouldn't be a standard team anymore…."
Time to relax a bit after a few races and to compose ourselves again. The lovely YooDrink (YooJin) offered her expert hair salon skills and kindly braided all the ladies' hair and we quickly formed the new ladies team…..The Braidy Bunch ;p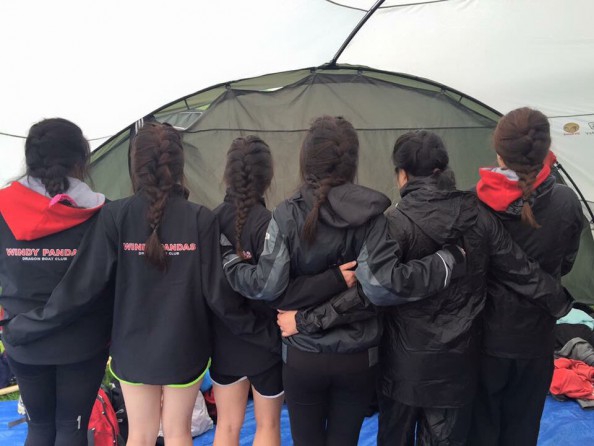 As we entered the last of our 350m sprint, we found ourselves up against team Bristol, who didn't know who we were (I even heard a snigger or two when we told them our team name, grrrrrr! "We'll show them" I thought). Another great race, both boats were paddling side by side and, as we reached the end we started to pull away! Success was ours, we beat Bristol! Who are we? Windy Pandas (It felt good to not lose by a cat's whisker again)!
After a quick break, it was time for the 1.5k City Loop race.  With our race heads on once more, the route would take us in the opposite direction that we had been racing and, we would go under the bridge, hand brake turn to go back round to the starting line. I was feeling a bit apprehensive about this one, as it was my first time racing in anything over 500m…"How will I do?" "Will I be able to keep up?" "What will the pace be like?" These were all the thoughts floating through my head… oh well no time to worry because its that time again "Are you ready? Attentionnnn….Go". Off we went with our usual race starts and we fell neatly into our usual 500m race pace. As we approached the bridge my heart pounded harder and harder as the burn set in, "BOOM! BOOM! BOOM!" went the drums (or was that my heart?) echoing loudly as we went under the bridge. Finally, we reached our goal and I. Was. Spent…. but it felt good…..tiring but good, our time was 7min 54.82secs.
Back on dry land, little did we know (well some of us anyway) that there was a further 1.5 k race coming up! "Oh Myyyyy God" I was thinking to myself but I've used up my energy for the last 1.5k race! Where am I going to find the extra boost? We walked down for our final race….it was time to dig deep and banish those thoughts of tiredness away. It was time to chase down some teams! For one final time, 3,2,1 REACH! I felt the team push hard! I could feel their determination, I could hear Cheryl calling out to the team, POWER, POWER POWER! I could hear Henry calling out to us DRIVE! DRIVE! DRIVE! I let out some roars and pushed on….Amathus Bees were in sight! "Push harder" I thought,  Need. To. Push. Harder!….Sweet success, we chased down Amathus Bees' boat and pass them! Woooooo hoooo!!!! (as I mentally punch my hand in the air) It felt good and, we almost did chase down a further team.
And so, the day finally came to a close and we all packed up to go home….
Final Thoughts….
All in all I thought we did really well! I only joined the Panda Familia this year and, I haven't had much paddling/racing experience myself, but having been to a few races now, it was evident that we had improved since Runnymede! Yes we were unlucky and, were 0.2 sec from being in the major cup, but we kept up with premier teams! That I felt in itself was something to be proud of, no longer are we left trailiing in the boat bubbles left from the other boats!
The comments we received from the other teams were amazing! As Captain Vo said, he once looked up to Typhoons and Rage, but now we can and should believe that we can put ourselves up there! We are moving up guys!
With the right training, focus and, mind set, I believe the pandas can only go from strength to strength and improve. As appropriately spun on his decks on the way home, DJ Long Time hit us up with one final song, "We are the champions"….. London BDA, here we come!