To my beloved Pandas
I'm sure most of you are well into hibernation season so here I am hoping to inspire some of you to come out from under those warm cosy duvets and get back into the boat for what could be the Pandas first winter paddle together.
Panda's FIRST ever Henley Winter Series (HWS) race took part on Sunday 16th November 2014… 6.45am; It was a crisp chilly morning so I decided to go for 5 layers hoping to be safe than sorry. Also remembering that my panda hat would definitely come in handy I quickly grabbed it as I left the house. Getting into Chi's car with my fellow Pandas who were equally layered up we set off for our first stop. McDonald's >_<"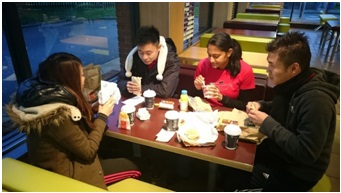 All fuelled up, the weather had picked up so stripping off a layer or two we were on our way to Henley! Having some light banter we amused to ourselves of how we were merely "newbies" just over half a year ago and here we were, heading to our first long distance race J Suddenly something familiar rock up next to the car AND over-took us… the trailer carrying 3 of the boats from LRC. Adamant not to be beaten, Chi stepped on the pedal as we drove past waving to Paul sitting in the passenger seat.
Arriving nice and early, we parked up and walked over to the hustle and bustle of paddlers all huddling together in small groups waiting for others to arrive/ keeping warm. A stall was set up with hot beverages and food as well as a raffle draw. No winners for the raffle but hopefully we would be able to do some winning later on the boat.
This next bit for me was one of the highlights of the day; perhaps a 'had to have been there to see it' moment but will try to be as descriptive as possible. Whilst me, Erica, Chi, Preema and Jet were waiting we saw some familiar faces approaching from the bushes behind us. Could it be our friendly rivals Typhoon? Preema was holding onto Jet's cup of tea from before and as she was passing the tea back to Jet, Jet turned his body to try to face and greet Typhoon and in perfect synchronicity, Jet's hand knocked the cup straight out of Preema's hand into the air at a 60 degree angle. Cue slow-motion; As if it were a cartoon picture, cup and tea pouring from the cup in a picturesque cloud like pattern was held in the air as our jaws began dropping to the floor… 1…2…3… SPLASH! Hot tea all over the floor right at the feet of Typhoon members. Uh oh. After a moment of shock, all we could do was laugh (albeit nervously). Good effort Jet, but I reckon it's going to take more than a cup of tea to sabotage the Typhoon Tigers!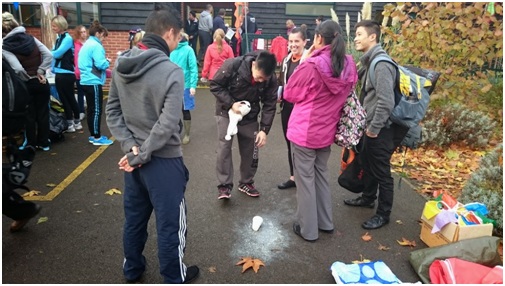 Just in the nick of time more pandas (Christine, Quy, Wing and Henry) approached from the bushes (quick back up guys!). With Ali arriving moments later to keep us in check, we got our life jackets on and paddles in hand. As not enough Pandas had signed up, we were to join forces with a fellow team also coached by Paul called the Easy Dragons… and so we united as one… "Easy Pandas"!
"Time to warm up Easy Pandas!"
Huddle time; we can always depend on Paul's motivational speech for some inspirational spirit!
Not forgetting those all-important pre-race team photos…
Time to race… After a last minute change of drummer we quickly loaded the boat. I wasn't as cold I was expecting so I rolled up my sleeves as we pushed away from the side. Feeling slightly nervous as it had been a while since we last raced, I reminded myself of the best thing about dragon boating, I wasn't alone! I wasn't going to let my family down so with my panda hat on, it was game on.
A quick warm up around a small island we headed towards the start line where we would be the first team to set off and lead the race. There was no race start, just a rolling start so as we started paddling, we slowly upped the power as we dug deep the moment we hit the start. Off we set, "long and strong"… I just kept my head up and tried to focus on the task ahead. As there was noone ahead, it was difficult knowing how we were doing but our helm kept us in check, calling for power strokes and keeping our spirits up. After the first kilometre we were going steady. As we passed under a bridge the drum echoed loudly. Soon after we could hear another drum gradually getting louder and roughly at the 2k mark someone overtook us. I couldn't see who but I remember a blue tinge passing us from the corner of my eye. We had a slight power surge as we were adamant not to be overtaken by any other boats, however we were not able to catch up with the boat now ahead of us which pulled away. Trying to stay focused I concentrated on my breathing to help with keeping my paddling strong. Some stopped paddling and Paul had to remind them to keep going.
At the halfway point was the turn to come back down the river. Righties powered through the turn giving us a slick manouvre round the island. Keeping up the power we were 3k up, 3k to go. Again power calls were made by the helm and encouragement was given to those who were starting to drop but we kept going. 4k mark, again we could hear another drum sounding louder, which meant someone was gaining on us, however with a little more power that sound gradually grew quieter. Heading back towards the bridge we first went past, our helm cried out for power as we were not going to give way to anyone under the bridge and you could feel the whole boat suddenly surge forward as we all pulled together.
Feeling strong, we knew we just had to make one more turn at the island we warmed up at during the start. Knowing we definitely didn't want any boats passing us at this stage again we upped the power going into the turn as we flew around smoothly… this was it, the home straight. Time to empty the tank and put any last ounce of energy into making sure we finished with conviction. For me the finish felt strong and we soared rapidly past the line to the sound of the claxon. Once easy was called I turned to see who was behind. To my surprise all the other boats we had initailly seen at the start but not during the race were all of a sudden racing towards the finish. Although it didn't seem like it during the race, these boats were fairly close behind us and I felt kind of proud that we had only let one boat pass us. Although I was out of breath and my arms heavy, I felt like I gave it my all and I was really happy of what we had achieved.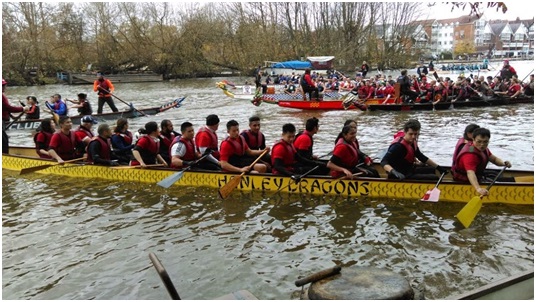 Once we came off the boat it was time to warm down and get ready for a well deserved lunch.
For anyone who thinks that a 6-7k paddle is hard, yes it is however it is definitely not impossible. In fact, once you come off the boat, anything will seem possible. Its a different experience from the races we had in summer but most definitely worthwhile. With all the training during the season, it would be a shame not to test ourselves and push the limits of our undeniable talent. The overwhelming enjoyment I get from paddling is not only that it's a great way to keep fit but I have fallen in love with the team spirit that this sport gives. Joining the Windy Pandas has most certainly been the best part of 2014 for me. Having made so many friends and family I will be sad to leave and so Henley has given me the opportunity to keep racing for the time being. I would encourage everyone to give Henley a go;
"The five S's of sports training are: stamina, speed, strength, skill, and spirit; but the greatest of these is spirit." – Ken Doherty
Nothing has been greater than the spirit the Windy Pandas have!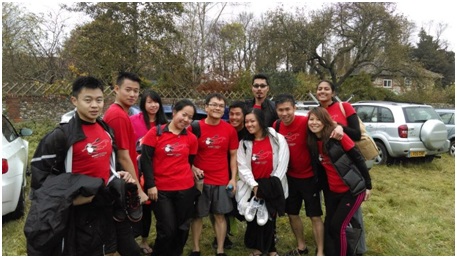 Written by Cheryl Phan