The Windy Panda's do Airhop!
First Social event of the year organised by Mivan Lim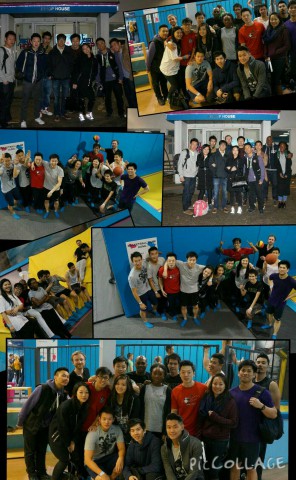 The first Panda social organised by yours truly begins on a bright sunny Saturday afternoon, with a relaxing drive towards Guildford with the roof down on the car. Warning, if you ask for a lift from Ben, you might be roped into random tasks like a bit of hedge trimming – cheers Wingo!
We arrive in Guildford for a spot of dinner at a recommended pub called The Weyside. It is located by a river and is surrounded by quite beautiful scenery, which is made all the more beautiful by the setting sun. The menu is quite extensive, however, I end up ordering the last slow roast pork – sorry  Joseph and Nov (a new G8 recruit), you snooze you lose! The food takes some time to arrive but was worth the wait, with dishes such as lamb shank, venison steak and cheeseburgers with pulled beef rib. Fortunately, the table was booked for 6pm, so we have time to digest our food before our physical activity.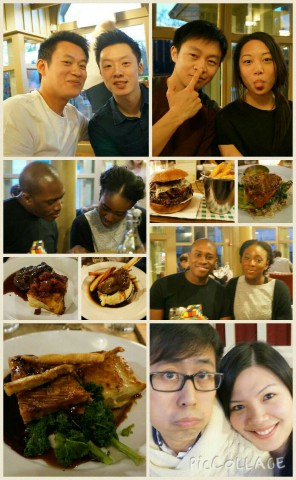 We make our way over to AirHop with a short 5 minute drive. Once all 18 of us arrive, I make sure that everyone has signed their life away, a wristband (Nocturnal flashbacks) and that everyone has their special souvenir pair of non-slip AirHop socks. Vo and Long are the only ones representing in their Panda tees. Apparently, we newbies have a lot to learn about Panda tradition.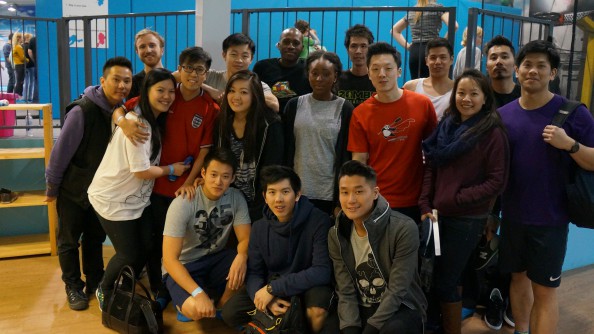 Nine o'clock can't come soon enough, and after taking the obligatory group photos we rush off to find a space to jump about in. For those who don't know what AirHop is, imagine a large space filled wall to wall with trampolines. What better way to start than with Trampoline Dodgeball. After five minutes of practice, we clearly look like professionals, so the AirHop supervisors organise a few rounds of dodgeball against each other, made all the more fun by having to jump around on trampolines at the same time. Don't be fooled, five minutes of jumping around really can tire you out. I only booked for an hour, but having experienced five minutes, I doubt I would have lasted two full hours.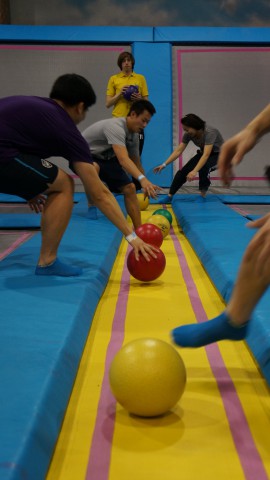 Dodgeball at AirHop is a lot more fun than real dodgeball, mainly because the balls do not hurt as much, unless Wing throws it hard enough into your stomach. After playing a few matches, we then split up to find other joys this place has to offer. One of which is the foam pit, which provided myself and many of the other Pandas and members of the public with the most laughter, at the expense of our G7 captain, Cheryl. The foam pit itself is made up of slightly larger trampolines and is a pit filled with foam cubes that you throw yourself into after maybe doing some somersaults or triple flips. Cheryl, however, does a move I don't even think has a name, and the pictures will forever remain if I ever need cheering up.  After hesitating and failing to commit to a jump, she realises that physics is a hard thing to beat on a trampoline and ends up tripping and face planting into the foam pit. Once in the pit it is quite hard to get out and fellow Pandas, Jet and Henry, after laughing and saluting our very own Katness Everdeen, go and help her out of this pit of foamy doom. Jet obviously has a few moments to throw a few foam blocks at Cheryl, thinking this will help. Don't worry Jet, I have the evidence!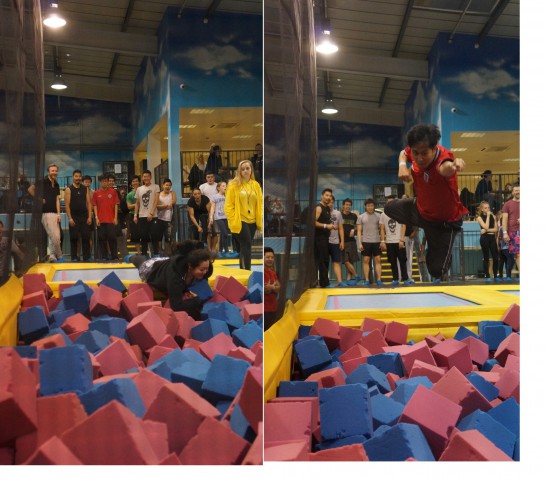 The largest area is filled with trampolines all across the floor and even on the walls. Everyone here starts trying to show some moves either from one trampoline to another or across the larger trampolines. A couple of fails that stood out – Jack, not sure how many turns you managed before you ended up smack in the middle of two trampolines and Joseph for flipping off the trampoline then landing on his knees on the hard part between two trampolines. Guys being guys, they just picked themselves up and carried on bouncing.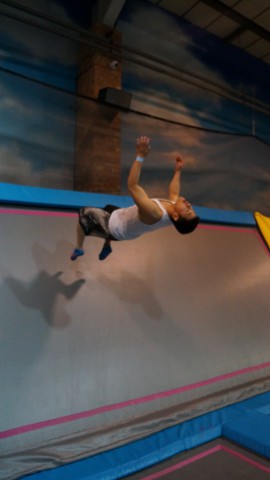 The majority of us are shattered towards the end of the hour long session, but we still managed to fit in some Slam Dunk impressions on the basketball nets. It was definitely a great  event and a bargain at £11.50. Although I initially was hesitant to jump, I would definitely recommend it to others. You even get to keep the socks.
Let's make this year another great one for the Windy Pandas (dragon boat team)!