DAY 1
After several days of binge eating, some possible drinking, and lots of touring around Annecy, we woke up to a warm, sunny day ready for a relaxing morning, before we embarked on our first set of races!
At approximately 1:30pm, we headed off to the race venue all geared up with our brand new panda hats. We showed Annecy how the Panda's roll with 20 loud Asians storming through town with Panda hats and paddles in hand, roaring to claim victory and dampen enemy morale.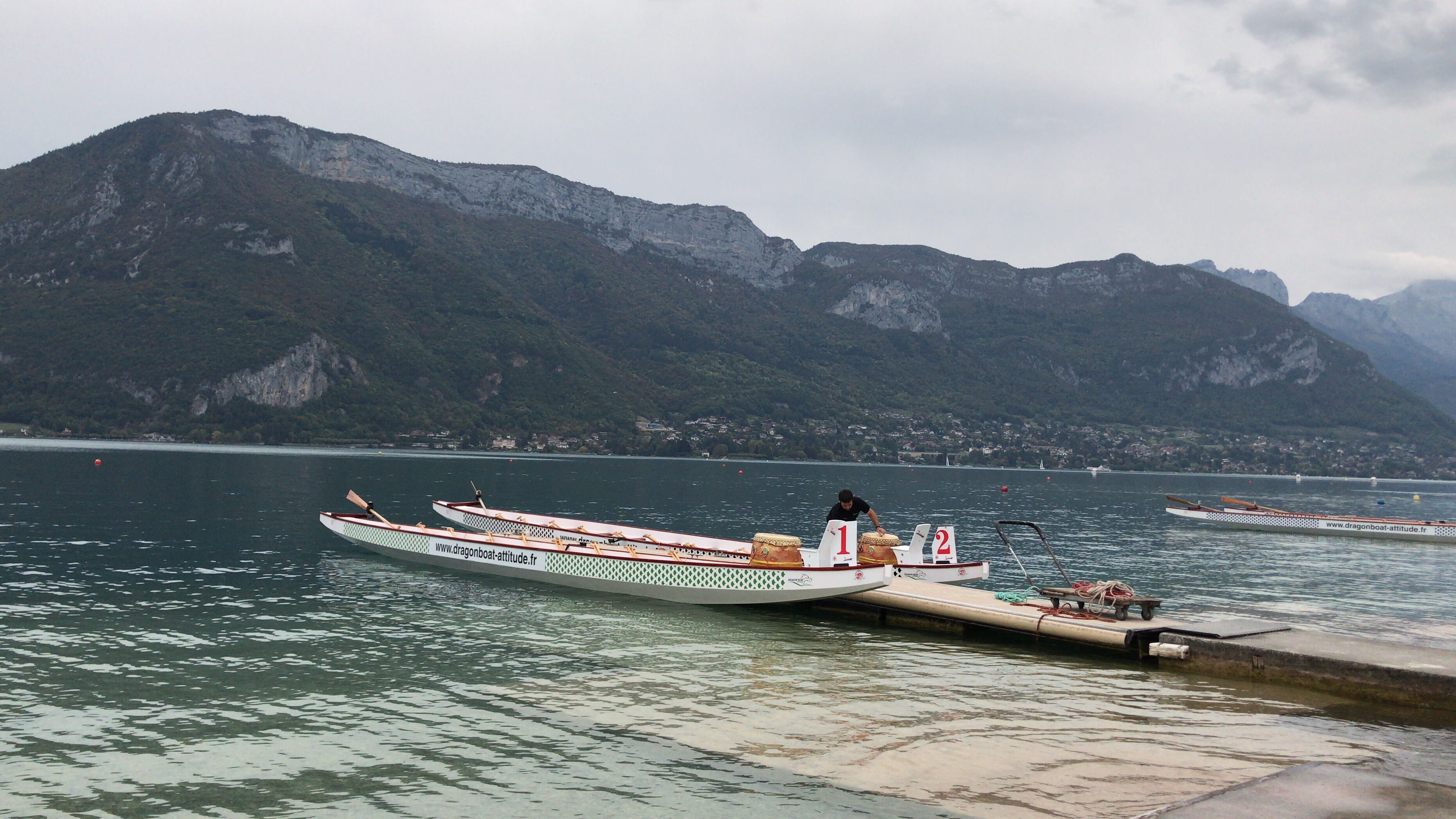 Surprisingly, we were one of the first teams to arrive at the venue- I know, Panda's early to an event huh? Once we'd claimed our 4 benches, we waited for our captains and designated interpreter by force (Helen) to return with news on line up for the day as well as race format.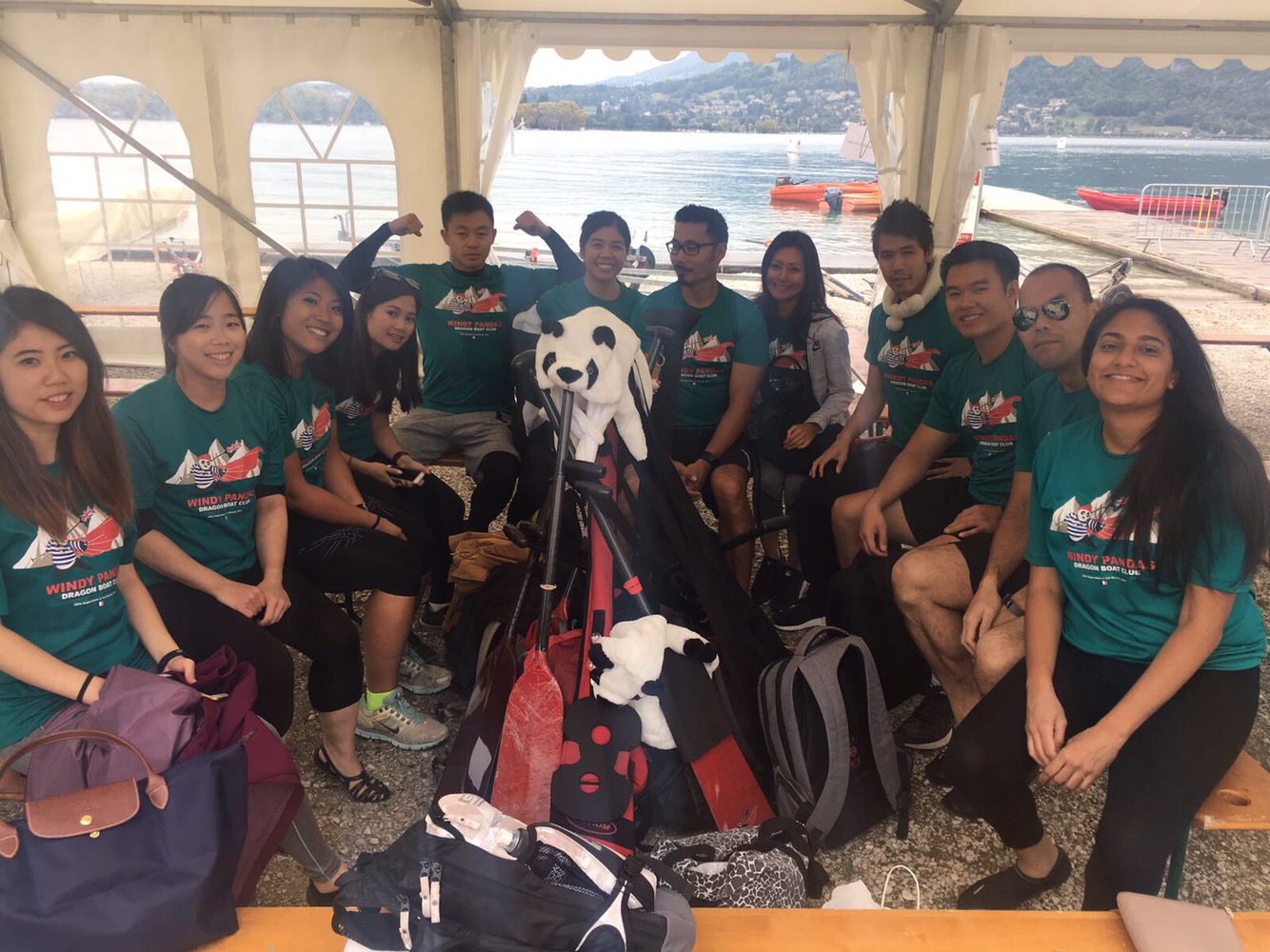 Day 1 was set to be a 4/5 boat back-to-back 50m elimination race, and boy was it tiring! By the time we were ready to start our first race, the weather had turned for the worse. It was now pouring down with rain, and the tent quickly filled with muddy water and threatened to ruin our spirits. But nothing could ruin the Panda spirit!
Despite being our enemies, the French teams there throughout the whole two days were so accommodating, and cheered us on enthusiastically each time. I had the honour of being drummer for the first set of elimination races. Not knowing what to expect, we all got onto the boat. It became apparent that there was a slight language barrier between us and the helms. We weren't used to the calls that were being given. However that didn't stop us from being determined to win the races! With me being the only one able to see the helm (and my big loud voice), I was able to relay what the helm wanted to the rest of the team- sorry Henry and Kawai if you lost your hearing because of me….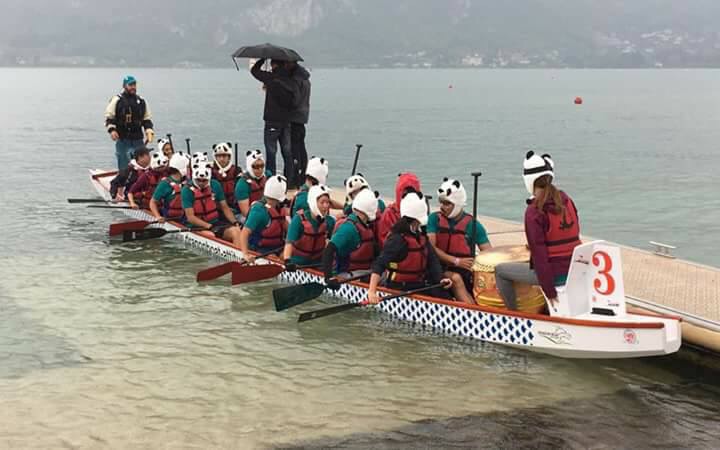 With spirits continuing to be high, everyone geared up to start our first race in Annecy. We're here to show everyone who the Windy Pandas are! All the Pandas were down and ready, and the moment we suddenly heard GO! we were off! We powered through the race start, and before we knew it the race has ended… and we came first!! With one enemy down, and it's now down to 4 boats, in a matter of seconds the first race is over.
We paddled straight back to the starting line and all reflected on just how FAST the race started. We were at a disadvantage, as we're used to hearing the "down and ready, attention, GO!". However this time we were more prepared and when the GO was called, I felt everyone put more power in the first 5 strokes, giving us a great start. Again, we came 1st in the second and third race, however I could tell that the team were now all tired from having the back to back races with no time to stop for a break.
With one race left to go, it determined whether we would go straight to the finals. We were up against a team of hench guys (and girls) who we had previously seen upstairs in the gym getting pumped up. As we heard the faint shouting of GO from our helm, everyone powered through the heavy rain. Result: We won the race and went straight through to the finals! However it was a very tight race and we all knew that we would have to put more into our next set of races where we would be against the local Annecy team, who we'd been told had competed in the World Youth Championships.
As we all hopped off the boat feeling victorious from the first set of races, the other teams greeted us with cheers and applause, as if we had come home from a heroic war (or maybe we have a really really big Panda fanbase here in Annecy)
We all rested up and tried to keep as warm as possible until our final set of races for the day. The weather was now looking miserable and we were all soaked and slightly muddy, but time seemed to go back quickly. Before I knew it, Cwis had put out the line-up for the next set of races, and we were queuing to get on the boat again.
After drumming, it was finally my turn to paddle, and although I had seen what happened in the first races and heard all the feedback, it didn't fully prepare me for how fast the call was actually shouted for us to start paddling. The first stroke felt super weak due to not being fully prepared, but I put all my power into the rest of the strokes and before I knew it, the helm called "stop!".
Again, we came first. And this was the theme for the next 3 races. As we paddled back to the finishing line for our last race of the day, I was beginning to feel my muscles ache from the constant paddling. Competing against Les Warriors (the local Annecy team) for the finals, we knew we had to put everything we had in order to come out first. From the word GO, I just remember POWER! DRIVE! REACH!
Unfortunately, we came a very close 2nd for the day. I could tell how emotional the captains got during team talk. We were so close to winning, and everyone was gutted that we didn't come out on top this time. It goes to show how dedicated everyone was. However, we still had Day 2 to look forward to, so we held our heads high and left the venue as a strong team knowing that we had more to give, and more to show the French.
Windy Pandas will be back, and we will give it our best!!
DAY 2
06:00am: *alarm goes off*
20 bleary eyed Pandas trudge down to munch on some bamboo sticks and joined by our VIP paddler Vanessa and special guest Cheng we made our way to the race venue.
Maybe it was the sunny weather, or maybe everyone wanted to see a glimpse of the British Pandas, but the venue seemed to be totally packed! The atmosphere was high and music was playing with lots of laughing and dancing.
Before we had time to set up or warm up, we were called onto the boats. We'd been invited to be part of the opening ceremony, which included an eye dotting ceremony and lots of petals. I don't think my words will do it any justice, so I'll put a picture up instead.
Highlight: the Wong Fei Hung theme tune playing as a kung fu master did some demonstrations in the background.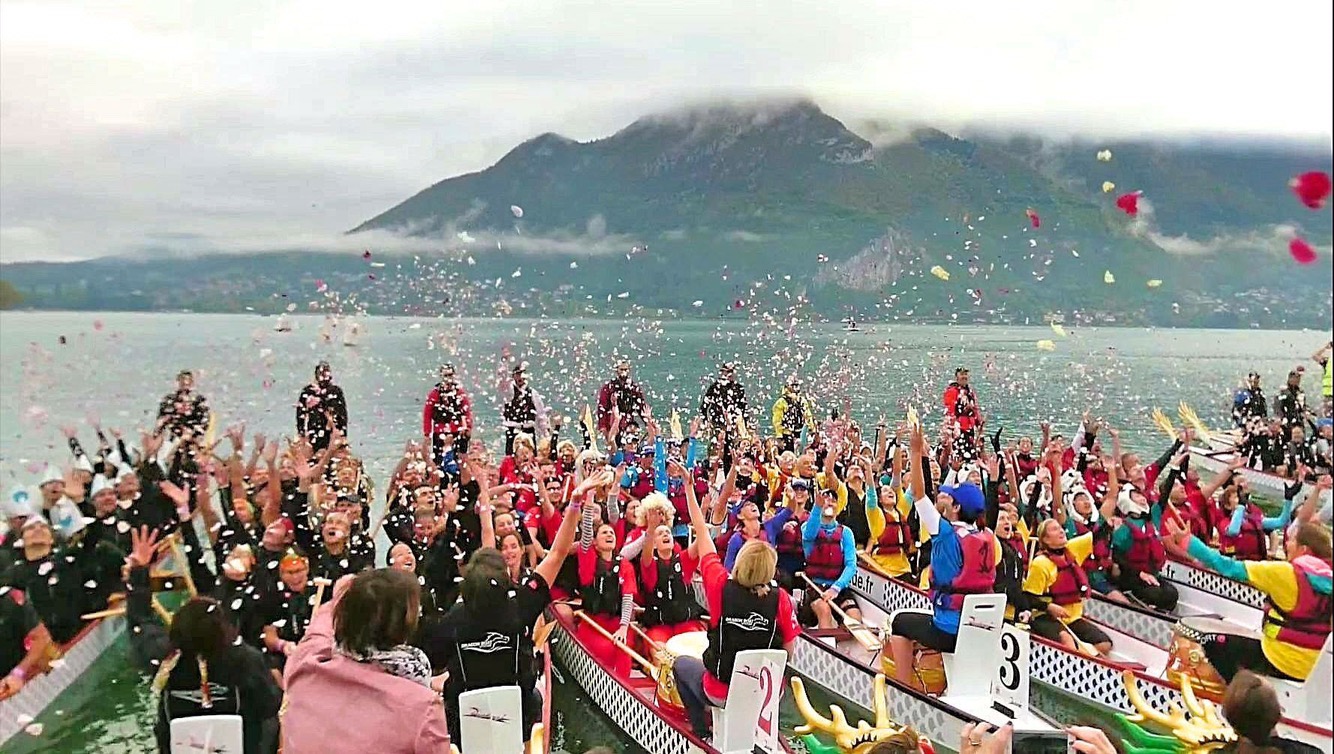 (Photo credit: Festival de Dragon Boat d'Annecy Facebook page)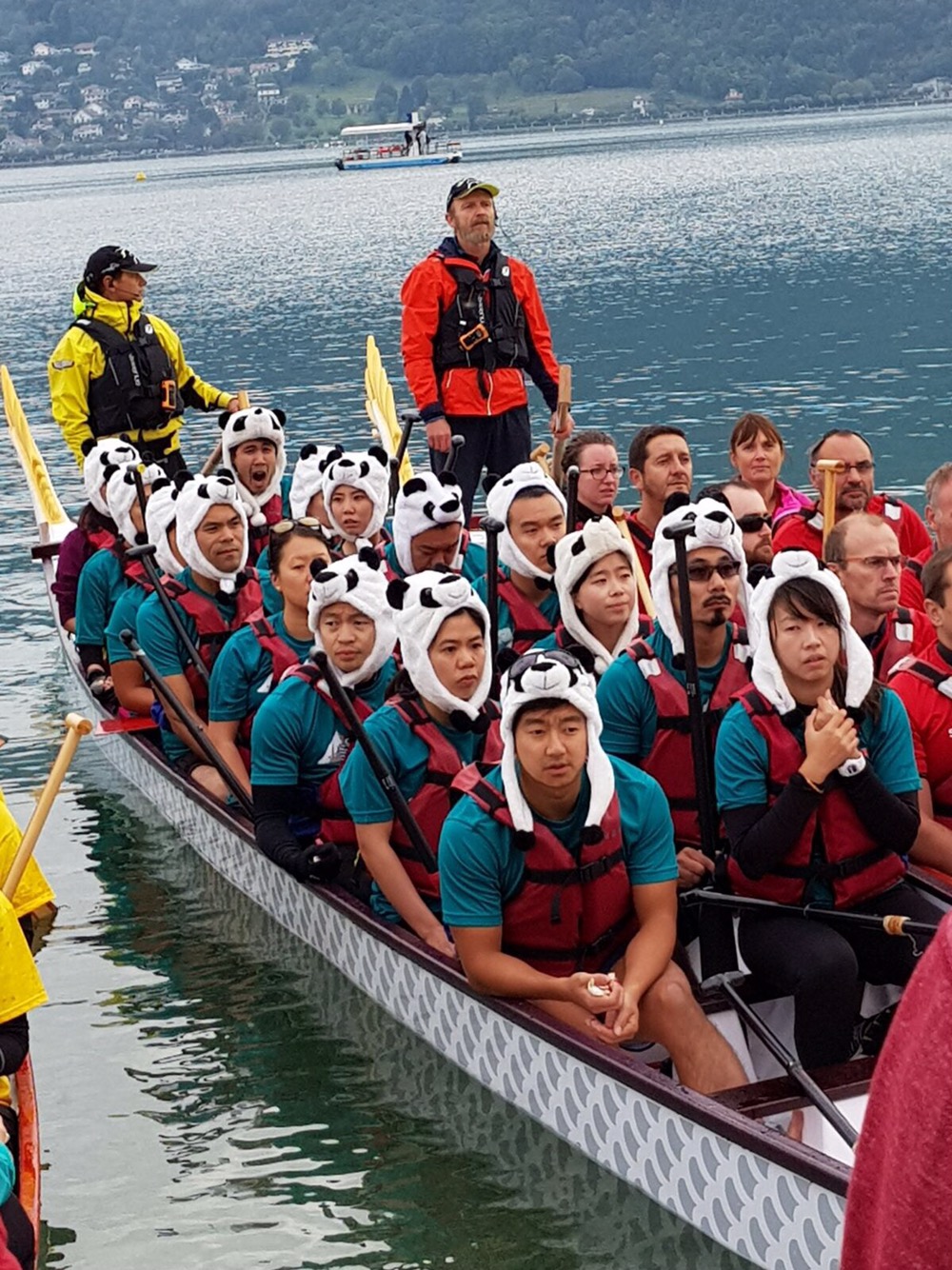 First up was the 2000m race, which I think most of us were a little nervous about since we had no warm up and weren't used to doing a long distance piece so early in the morning. With CEO Jez as our drummer, we set out on a strong start and even managed to overtake the boat in front of us before the first turn!
With each turn, our righties powered through stronger and stronger. I can feel us all working hard as a team, and feel the adrenaline as we overtake another 2 teams. Although we face troubles during our turns due to the helm keeping so close to the buoys that some of us lefties have to lose a stroke to avoid smashing our paddles against the buoy, it just gives us more determination to power through.
Surprisingly, the 2000m came to an end before any of us expected, since we didn't know where the finish line was and expected another turn. The whole team shared the same thoughts; this was one of the best 2000m races we'd done! With everyone working together and shouts of encouragement coming from Jez, we had a strong start, middle and end to the race. Time: 08:24:10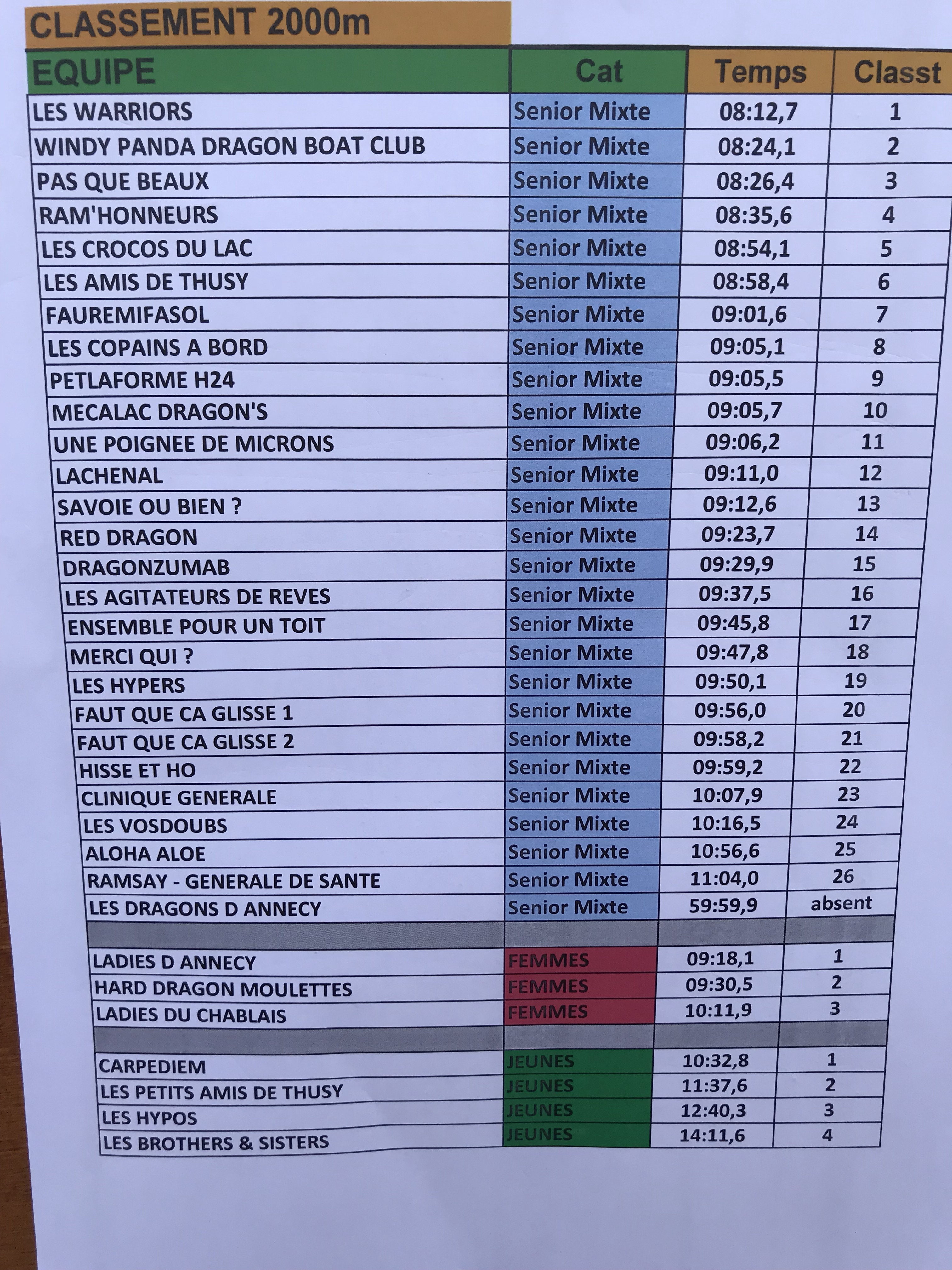 After a long 4 hour break, where we enjoyed a photoshoot, photobombed lots of teams and started a human archway that ran on and on (and on….), it was time for the final part of the day, and the part that we had the most confidence in: the 200m races.
The times of our 2km race in the morning and the first 2 200m races would be combined to determine which final we would be racing in, so we knew that although we had a good time from the morning, we still had to work hard to maintain our place.
Sitting near the back, I felt that the first race was very rushed and unfortunately, there was a lot of pushing on both sides. We all came out of the race feeling like we could give it so much more, and were determined to do better in the next race. Time: 01:05:00
Reflecting from the mistakes of the first race, the 2nd was much improved. There was a lot more composure and we really took in points given by Henry to improve. I could definitely feel the difference on the boat. Our movements were more natural, and the strokes didn't feel as difficult. Time: 01:11:30
As drummer for our final race here in Annecy, I was a little excited, but also very nervous. Heads up! Don't be distracted by the other boats!
ATTENTION! GO!
Finally, we had the start up that we were all used to. Our start was powerful, and I saw us soar away from the starting line ahead of the other boats. The Pandas all dug deep and I saw the determination on everyone's face. As we neared the finishing line, I could see that we were still ahead of the other teams. C'MON PANDAS.. Aaaaaand easyyy!
The heavy breathing that came afterwards from every person on the boat showed just how hard everyone had paddled. Time: 1:09:00
We'd come out as the clear winners by over 2 seconds, and we heard friendly cheers from all the other boats and our spectating fans.
I proudly announce Windy Pandas as the CHAMPIONS of the Annecy Dragonboat Festival 2017!
This was such a memorable trip for me, being my first international event. I've had such an enjoyable time with the best crew of people. So as I sip hot tea from my winning flask (pictured above), I reflect in everything that happened during the trip with a warm smile on my face.
Thank you to the Captains; Dave, Cwis & Kit for all the organisation and detail that went into it. Thank you Josephine, for without you we wouldn't have experienced all the amazing food. And thank you Helen, for being the best French interpreter the team could ask for.
Qui sommes-nous??
WINDY! PANDAS!
Grazie Merci
– Carmen "La Reine De Pluie" Yuen